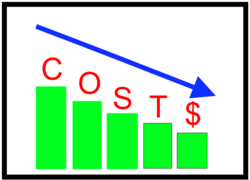 The key to any successful finance venture is to make a goal and stick to it!
Salt Lake City, Utah (PRWEB) August 11, 2012
Some areas of this great country are improving in the economy while others are struggling. While nearly 12.5 million American's are seeking employment it has a lot of people looking for some ways to get a little more frugal with a budget. In a tough economy one thing the American people have going is innovation. Here are some quick tips to consider in helping lighten those monthly expenses. These tips range from lowering insurance costs to hunting for coupons. While some of these might not add up to much, together as a whole these tips can save quite a bit of hard earned cash. Consider these tips:
1. Stop Unnecessary Spending.
Most people have a lot of luxuries that are unnecessary. While it is not always fun to part with some everyday vices that are enjoyed, these indulgences tend to add up the more they are used. For instance, take a look at the cable television bill. Chances are it does not just have regular television stations that are being paid for but are opting for some additional premium channels. Try cutting these out, they can often cut a cable bill by as much as thirty percent. Another example of some spending that can be curbed is going out to the movies with a family member or friend. While going and seeing a great movie can be entertaining it can cost up to fifty dollars easily for a family of four. Instead perhaps a better alternative is going on an easy hike or simply getting a board game out. These are much cheaper if not free options for the family looking to cut down on the extra spending.
2. Exchange trade skills.
While this can seem silly to some it can be a way to cut back on expenses that are spent every month. An example to be used is lets say a friend who by profession is a hair stylist and the other is a photographer. Instead of going and paying for the hair cut, or the annual family photo perhaps a trade may be made to exchange a family photo session with that of a hair cut. While this is a small example, most people have a talent where it can be used as an advantage to barter a trade. One could even exchange babysitting nights as opposed to having to pay for a babysitter. These trading for services use to work in the old days and in most cases are still very much alive today.
3. Hunt for Sales.
There are all kinds of sales going on in today's world. Most companies because of the slow economy are still looking for ways to push a product or get an edge on the targeted consumer. One store in particular, as an example is Smith's. This company usually has manager specials that are a great find every time one goes to the store. For example, when the store holds a manager's special for the butcher shop on can typically find meat that will expire soon but to push the product prices can get slashed heavily so they do not go to waste. This can help ease the cost of a Bar-B-Que night. This is one example, but typically the avid shopper can find many sales around holiday's and blow out deals in your area where taking advantage of some cut prices can add up to some huge savings.
4. Shop around on Insurance.
There are a lot of sure things that people can't change in life, taxes and death are typically unavoidable. One thing that can change is how much one pays on an auto insurance policy. American's are required to have auto insurance coverage of some kind to legally drive a car. This can be a huge expense as according to The Insurance Information Institute the average American spends approximately eight hundred dollars a year on an insurance policy. But a big step people can take is to comparison shop. The key is to find a higher deductible but still get the required coverage needed. For example switching a premium deductible from two hundred and fifty dollars to one thousand dollars can typically save a person up to thirty five percent on policy rates annually. A good place we recommend to comparison shop for car insurance policies can be found here. Websites like these make it easy for people to compare policy coverage and pricing from most major providers.
5. Finding those coupons.
Places such as Wal-Mart will do ad matches when one presents the coupons at the register. This is a nice feature as a person can do a one stop shop now and just bring that book of coupons to get all the sale prices in one place. But if like many people today in our digital age are not receiving the newspaper, then do not worry there is a website for that! A good place to print out coupons to take to the store is couponmom.com. With coupons in hand a person can be sure to save a lot of money off that weekly grocery bill.
While all of these are small and simple ideas that can help cut costs over the course of a month the best way to save some money is to create a plan and stick to it. Keep goals in mind and figure out a way to execute those aspirations. All things can be accomplished in life, especially in the financial world by just sticking to a plan. May frugality help in the journey during these less prosperous times.
James Tuck is a writer and co-owner of GoToAutoInsurance.com. Go To Auto Insurance was established in 2006 in Los Angeles, CA. and specializes in ways to help people save money on their car insurance. Although it is a relatively small company it will continue the hard work and dedication that is put in each and every day to make the customer happy. To read more