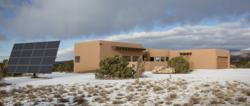 Santa Fe, NM (PRWEB) August 09, 2012
Faren's latest award winning residential project is a geothermal, solar electric home that is poised to additionally receive a "Gold" certification from Build Green New Mexico, based on the National Green Building Standard. This super green and energy efficient home, owned by Karen and Andrew Rodney, has no natural gas or propane and produces enough of its own energy to be considered a zero carbon residence. This leading edge design is the first home in Northern New Mexico to utilize geothermal for radiant heating, cooling and hot water. Much of the energy requirements are offset by a 3.6 kilowatt Photovoltaic Solar Tracker, which tracks the sun throughout the day, while providing a 20% increase in efficiency beyond a typical roof or ground mount installation. Mr. Dancer 's show, Unicopia Green Radio, is a featured on Hutton Broadcasting radio station Talk 1260 KTRC. Hutton Broadcasting is the parent company of SantaFe.com.
The Rodney residence also incorporates a super high-efficient building envelope utilizing Energy star rated windows, doors and skylights, under slab insulation, blown-in cellulose and closed cell polyurethane foam. This leading edge application of building science also addresses thermal bypass, the movement of air from one plane to another within the framing structure. A filtered air exchange system helps assure the finest possible indoor air quality, as tightly built structures require air exchanges during the heating and cooling seasons when the home is kept closed. This air exchange system also incorporates a dehumidification feature that maintains correct dew point during the summer rainy season, assuring the optimal function of the radiant cooling system.
Certified green products such as adhesives, caulks, paints, plasters and finishes, help achieve the goal of providing a healthy indoor environment by eliminating VOCs (volatile organic compounds). All cabinetry is formaldehyde free, thus eliminating another indoor pollutant typically found in residential construction.
Beyond energy efficiency, the Rodney home incorporates numerous features that assure the home's commitment to all aspects of sustainability. These features address indoor air quality, resource efficiency, water efficiency and site impact. Bamboo cabinetry, ceramic tile with high recycled content, natural plaster, recycled quartz countertops, energy star rated appliances and lighting package, dual flush toilets and waterless urinals are just a few of the features that demonstrate the attributes of an environmentally conscious and healthy home.
Faren is also in the completion phase of a unique off-grid, passive/active solar building model that utilizes 100% roof water catchment with no well or municipal water source. This home, located on 485 acres in a land conservancy with the Santa Fe Land Trust, also demonstrates land stewardship and restoration.
For further information on the Rodney home and other green building models, please visit http://www.unicopia.org. While visiting the website check out the organization's other endeavor, Unicopia Green Radio. Visitors are encouraged to print a wealth of information from the site about the cultural evolution that is driving sustainability from its grassroots.
About SantaFe.com:
SantaFe.com provides locals and visitors to Santa Fe alike the most current interactive platform for events, music, arts, business, dining and lifestyle. SantaFe.com is a division of Hutton Broadcasting, located at 2502 C. Camino Entrada, Santa Fe, NM 87507
Contact Information:
Scott Hutton
SantaFe.com / Hutton Broadcasting
http://www.santafe.com
(505) 471-1067 (Media inquiries only, please)