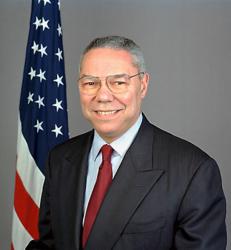 Diversity and inclusion strengthens the financial services industry and creates a more consumer-friendly workforce.
Bryn Mawr, PA (PRWEB) August 11, 2012
Colin L. Powell, the 65th U.S. Secretary of State and retired four-star general, will be speaking at The American College's 7th Annual Conference for African-American Financial Professionals in Washington, D.C. on August 14, 2012. General Powell will share his perspectives on leadership and excerpts from his new book, "It Worked for Me: In Life and Leadership."
During the two-day event, participants will have the opportunity to network and learn from other successful African American financial professionals, and attend workshops presented by industry thought leaders. Sessions will focus on topics including:

Career path and career development
Developing and leading a successful practice
Client development and planning
Marketing and sales in diverse communities
…and more!
"We are strongly committed to supporting multicultural professional development through events like these," said Larry Barton, Ph.D., CAP®, President and CEO of The American College. "Diversity and inclusion strengthens the financial services industry and creates a more consumer-friendly workforce."
Other conference presenters include Joseph W. Jordan, Senior Vice President, MetLife, author of "Living a Life of Significance" published by The American College. Copies of Jordan's book will be available for purchase at the event. All book sales proceeds benefit The American College – a non profit organization.
About Colin Powell:
Before becoming Secretary of State in January 2001, Colin Powell served as a key aide to the Secretary of Defense and as National Security Advisor to President Reagan. He served 35 years in the United States Army, rising to the rank of Four-Star General and serving as Chairman of the Joint Chiefs of Staff (1989-1993).
His book, "It Worked for Me: In Life and Leadership," is a memoir of lessons learned and anecdotes drawn from Secretary Powell's childhood in the Bronx; his military training and career; and his work under four presidential administrations. Also featured in the memoir is Powell's honest reflections on the most controversial time in his career: the prelude to the war in Iraq in 2003.
Additional Event Information:
The conference will be taking place August 14 -15, 2012 at the Washington Hilton in Washington, D.C. For more information or to register for the 7th Annual Conference for African American Financial Services Professionals, click here or contact Fran Kaar at 610-526-1489 or Fran.Kaar@TheAmericanCollege.edu
Leading companies from across the financial services industry have joined forces to sponsor this unique industry event which features advanced presentations from nationally recognized thought leaders. MetLife, recognized for its ongoing commitment to diversity and inclusion, is serving as the founding and presenting sponsor of the event. Northwestern Mutual and New York Life are Platinum sponsors, and Prudential is serving as a Gold sponsor of the event.
The American College is dedicated to leadership in innovative training and development that helps financial services companies and their employees succeed. As a non-profit educational institution holding the highest level of academic accreditation, The College has served as a valued business partner to banks, brokerage firms, insurance companies and others for over 85 years. The American College's faculty represents some of the financial services industry's foremost thought leaders. For more information, visit http://www.TheAmericanCollege.edu
MetLife, Inc. is a leading global provider of insurance, annuities and employee benefit programs, serving 90 million customers. Through its subsidiaries and affiliates, MetLife holds leading market positions in the United States, Japan, Latin America, Asia, Europe and the Middle East. For more information, visit http://www.metlife.com.
The Northwestern Mutual Life Insurance Company –Milwaukee, WI (Northwestern Mutual) – among the "World's Most Admired" life insurance companies in 2012 according to FORTUNE® magazine – has helped clients achieve financial security for more than 155 years. As a mutual company with $1.2 trillion of life insurance protection in force, Northwestern Mutual has no shareholders. The company focuses solely and directly on its clients and seeks to deliver consistent and dependable value to them over time. For more information, visit http://www.northwesternmutual.com.
New York Life Insurance Company, a Fortune 100 company founded in 1845, is the largest mutual life insurance company in the United States* and one of the largest life insurers in the world. New York Life has the highest possible financial strength ratings currently awarded to any life insurer from all four of the major credit rating agencies: A.M. Best (A++), Fitch (AAA), Moody's Investors Service (Aaa), Standard & Poor's (AA+).** Headquartered in New York City, New York Life's family of companies offers life insurance, retirement income, investments and long-term care insurance. New York Life Investments*** provides institutional asset management and retirement plan services. Other New York Life affiliates provide an array of securities products and services, as well as retail mutual funds. Please visit New York Life's Web site at http://www.newyorklife.com for more information.
*Based on revenue as reported by "Fortune 500 ranked within Industries, Insurance: Life, Health (Mutual)," Fortune magazine, May 21, 2012. See http://www.money.cnn.com/magazines/fortune/fortune500/2012/faq/ for methodology.
** Source: Third Party Ratings Reports as of 6/22/12.
***New York Life Investments is a service mark used by New York Life Investment Management Holdings LLC and its subsidiary, New York Life Investment Management LLC.