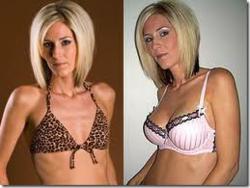 we've seen a high demand for the mommy makeover from our clients, and by performing multiple surgeries at once, surgeons can offer a huge cost savings
San Francisco, CA (PRWEB) August 13, 2012
The aptly named "Breast Day Ever" contest asks people to guess the exact date and time when the 1,000 milestone will ultimately be reached. When asked about the contest, co-founder Jason Grunstra had this to say: "1000 women earning free breast implants is an extremely significant number; especially when you consider that just a few years ago we funded 37, yet this year we're on pace for 300 free boob jobs and over $2 Million in total fundraising. In this economy, that's a major achievement!" The contest details and entry form can be found at http://www.BreastDayEver.com
Expanding beyond just breasts, MyFreeImplants who has historically remained focused on its core goal of helping women increase their bust size, is rolling out a trial program to allow women to fund other cosmetic surgeries such as liposuction, Brazilian butt lift, and nose reshaping to name a few. Jason commented that "we've seen a high demand for the mommy makeover from our clients, and by performing multiple surgeries at once, surgeons can offer a huge cost savings which ultimately ends up benefiting the entire MyFreeImplants community."
And speaking of Brazil, MyFreeImplants has a long history of funding breast augmentations around the world. From Finland to New Zealand to Brazil and beyond, the company has boosted the buxom population in over 30 countries. With demand for cosmetic surgery on the rise around the world, MyFreeImplants has entered into an agreement with a German firm that will license the MyFreeImplants technology and brand name to bring this unique crowdfunding platform to the German-speaking population. According to Jason, "Germany has always been our 3rd largest market next to U.K. and U.S. and we feel there are enough native German speakers to create a thriving community to support our cause." MyFreeImplants.de is currently slated to be available to the public in the 4th quarter of 2012.
About MyFreeImplants.com
MyFreeImplants is a social funding company that challenges traditional financial conglomerates by providing the only no-cost alternative to expensive cosmetic surgery loans. The service is a specialized social networking website that provides fundraising for women who have a strong desire to enhance their physical appearance through cosmetic breast surgery, and donors who wish to make a difference in their lives. Since its 2005 founding, the website members have raised $10 million. You can pay them a visit at http://www.myfreeimplants.com.