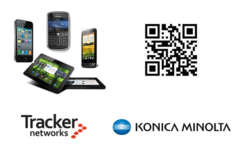 The Tracker Networks system uses our blackberries and other PDAs as scanners and will make it much easier and less expensive to track and audit our assets in the field.
Toronto, Ontario (PRWEB) August 13, 2012
In today's cost conscious business environment, there is a compelling case for improved fixed asset management. Konica Minolta and Tracker Networks announced today that Konica Minolta has signed as a Tracker Networks customer to track Konica Minolta's assets using smartphones and the IT Tracker System from Tracker Networks.
Many organizations have a poor and outdated view of the assets they manage. As a result, they buy new equipment they do not need, have misaligned insurance coverage, and do little to deter theft and misuse. Even worse, they often make unnecessary overpayments on taxes, support agreements and insurance policies.
Managing assets is especially challenging in current times, with organizations facing workforce cutbacks, changing technology and distributed work environments. Old approaches to equipment labelling and scanning with dedicated scanners and printers are expensive and time consuming. Fixed asset tracking functions in ERP and finance systems are often limited and out-of-step with current business requirements. Flying audit teams across the country with scanners to conduct physical audits is expensive and hard to justify in challenging times.
"In the past, our physical audits were expensive and time-consuming, and so they did not take place as often as they should," said Julia Kwan, Chief Financial Officer of Konica Minolta Canada. "The Tracker Networks system uses our blackberries and other PDAs as scanners and will make it much easier and less expensive to track and audit our assets in the field."
IT Tracker is a web-based software tool and mobile application that makes it easier for Finance and Technology executives to track all of their equipment, software, support agreements, telecom contracts, consultants, services and other expense areas. Using analysis and benchmarking against the Tracker Networks market database with over 30 million items, the system helps manage costs and find ways to provide better service to the business and customers.
"We listened to the market and our customers," said Roger Mahabir, Chairman and CEO of Tracker Networks, "they want to use modern and open technology, and they need to find ways to lower costs." "We responded by creating a mobile application that uses standard Blackberries and smartphones to scan assets without the need for dedicated scanners."
"We can now make use of our staff in the field to do audits more often," said Kwan, "and they do not need special training or equipment." "This is one of the ways that we are doing more for less with the help of smart technology."
"Bring-Your-Own-Device and the proliferation of devices in general are making it extremely difficult for CIOs and finance executives to track and manage their assets," said Mahabir, "Our IT Tracker system leverages innovative and flexible approaches to make it easier to track a myriad of devices." "We are very pleased to be helping Konica Minolta with this."
About Konica Minolta
With offices in 35 countries, Konica Minolta is a leading global provider of advanced imaging and networking technologies, for applications ranging from the desktop to the print shop. The world of imaging is expanding like never before, brimming with new potential made possible by exciting new digital and networking technologies. Konica Minolta is playing a key leadership role in these developments. For more information, please visit http://www.konicaminolta.ca.
About Tracker Networks
Tracker Networks Inc. is an innovative and fast growing software company headquartered in Toronto, Canada. Tracker Networks helps technology and business executives to track equipment, services, contracts, resources and costs – to help find ways to lower costs, improve service and increase revenue. Tracker Networks systems import and track thousands of quotes and contracts per day, for over 150 manufacturers and many leading IT organizations in Canada, the US, Europe and Asia. For more information, please visit http://www.trackernetworks.com
Contact
For Konica Minolta
Norm Bussolaro
Tel 905.890.6600
Email norm.bussolaro@bt.konicaminolta.ca
For Tracker Networks
Jason Doel
Tel 416.848.7347
Email jason.doel@trackernetworks.com