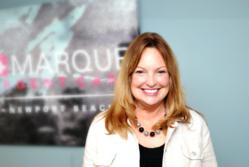 It's nice to know that when a patient leaves our clinic, they are still in excellent hands.
Newport Beach, CA (PRWEB) August 22, 2012
Marque Urgent Care is pleased to announce that Elaina Shultz has been appointed Director of Occupational Medicine Services. Elaina brings over 20 years of professional experience in the medical field and has been with Newport Walk-In for over 10 years before it became Marque Urgent Care.
Elaina's department is responsible for occupational medical care to over 150 organizations throughout Orange County. Her duties are to oversee seamless communication between the employer, claim handlers, insurance companies, and the clinic account managers. According to Elaina, "My primary concern is for the injured employee's care and recovery while keeping the process moving along. Dealing with a work related claim can be very complicated and tedious nowadays, and it is my job to make sure everything runs smoothly for the patient and employer."
Marque Urgent Care understands that employers want to provide the best possible medical care for their employees for work related injuries. Their approach focuses on getting patients better fast, so they can get back to work quickly, while reducing the overall healthcare cost that a company may incur.
Marque Urgent Care's dedicated professionals, such as Elaina, provide a host of services to employers including custom modified duty programs, workplace injury treatment protocols, and can help design employer paid health service programs. Marque works within an employer's Medical Provider Network for referrals and follow-up services, so there is little to no disruption within the employer healthcare plan.
Dr. Nathan Kiskila states, "We are honored to have Elaina oversee our occupational medicine program. As a Marque physician, we do everything in our power to make sure our patients receive the best possible care. It's nice to know that when a patient leaves our clinic, they are still in excellent hands."