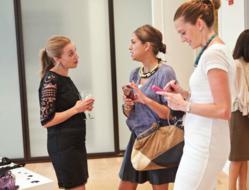 "I have done a MILLION events in my career, but since social media, Twitter preferably, they have TAKEN OFF!" said Kristin Palermo, PR and Social Media Manager for Chantelle.
New York, NY (PRWEB) August 14, 2012
The way women share, shop, and relate to brands is evolving fast, especially as social media becomes an even larger part of our lives. But it can be a struggle for traditional fashion brands to keep pace with changing times. One solution is to find a partner who can help them harness the power of the social sphere.
That's just what iconic lingerie brand Chantelle Paris did for their recent press event when they partnered with Jenny Altman and Danielle Black, co-founders of ILOVEAGOOD. Through their relationships and expertise in fashion and social media, ILOVEAGOOD took what would have been a two hour press preview and turned it into an event that reached over 300,000 people with a three day social media blitz. Images are now available.
The event attracted over 100 invitees to the Chantelle showroom. Jenny and Danielle's key industry contacts included top influencers in fashion, beauty and entertainment. There were editors from magazines including Marie Claire, Lucky, and Cosmo, .com editors from Martha Stewart Weddings, Men's Health, and Self, and bloggers like The Lingerie Addict, Betty Confidential, and the Bergdorf Goodman social media team.
Chantelle's PR and Social Media Manager, Kristin Palermo, was quoted as saying about the event: "I have done a MILLION events in my career, but since social media, Twitter preferably, they have TAKEN OFF!"
The event didn't end when the night came to a close. Jenny and Danielle helped Chantelle break through the showroom walls with tweets and Facebook posts that reached hundreds of thousands of fans and followers. They'll continue to keep the buzz going over the next week posting photos and encouraging engagement online through their website ILOVEAGOOD.com and social media pages.
"These days, a press preview has to go beyond the four walls of the event to be a real success," said Jenny. "Our social media and industry experience, as well as our online presence, puts us at a unique crossroads to connect brands like Chantelle with top influencers and targeted consumers, and create the lasting buzz they're looking for."
Companies can work exclusively with ILOVEAGOOD to tap into their network. In any relationship, it's their goal to help put all of the right pieces in place to create buzz worthy events that turn guests into their clients' best brand ambassadors.
About ILOVEAGOOD.com
ILOVEAGOOD.com is a Digital Marketing Agency and intimates based fashion website dedicated to changing the way women share, shop, and view information. It was founded by Jenny Altman and Danielle Black as a way to connect brands with their target audience through modern marketing channels such as social media. Jenny is a former Stylist and Fashion Editor for Oprah, Lucky, and InStyle, Magazines and has helped dress everyone from Oprah and Gayle King to Jennifer Lopez and Cameron Diaz. Danielle is a seasoned Fashion Executive and member of the Yummie Tummie startup team with extensive experience launching top intimates brands in stores including Dillards, Saks, and Bloomies.
Contact: Danielle Black
ILOVEAGOOD.com
201-681-8592
danielle(at)iloveagood(dot)com