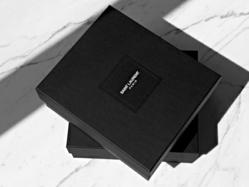 It is interesting to see how much reaction this retro branding has created.
Houston, TX (PRWEB) August 13, 2012
Popular luxury labels St. John Knits, Yves Saint Laurent, and Bill Blass are becoming synonymous with change: Swapping out designers, world famous spokespersons and even an entire staff, each brand has taken bold steps in an attempt to capture a larger share of the upscale fashion market. These steps have not always been met kindly by brand loyalists, who are not afraid to speak out when a company begins to move toward seemingly unfamiliar territory. Today, premier luxury brand reseller Rodeo Drive Resale looks at Yves Saint Laurent creative designer Hedi Slimane's daring new direction for the famous French label.
Yves Saint Laurent received a wave of criticism after unveiling the new Saint Laurent Paris logo, a rebranding of its ready-to-wear collection, earlier this summer. Dropping the word "Yves" and the label's monochrome logo of interlocking YSL letters, the company was bashed for what some saw as a design unfit to be associated with the prestigious Saint Laurent name.
"It is interesting to see how much reaction this retro branding has created," Vanity Fair reported Sliman as saying. A former creative director for Christian Dior, Slimane explained that he felt the best way to move the brand forward was by honoring its spirited past.
"I went back to 1966 -- just before the events of 1968 [when 11 million workers revolted against then-President Charles de Gaulle -- the largest general strike ever recorded], but the awakening of youth was in the air, and Yves Saint Laurent wanted to dissociate himself from the clientele of haute couture and embrace this new generation."
In late July, the label's Facebook page became a town hall meeting of sorts, with disgruntled YSL lovers expressing their distaste for the new logo.
"I think this is a slap in the face of one of the greatest designers [that] will ever walk this earth," wrote one unhappy fan of the tiny white Saint Laurent Paris lettering. "Yes, this was originally what he named his company but the fact that they're changing it back and removing his first name [post death] just seems straight up disrespectful."
Despite the current controversy, the real test still awaits Slimane: This September, the 44-year-old designer is set to debut his Spring 2013 womenswear designs during Paris Fashion Week.
Rodeo Drive Resale (shopRDR.com) has built a reputation of providing amazing deals on handbags, clothing and accessories from the top designers of upscale fashion. The company offers a 100% guarantee of authenticity on each item sold, and works daily with a network of clients looking to buy, sell, or for consignment of their luxury goods. ShopRDR.com loves high-end fashion, and believes finding a high quality, classic piece should be an easy, enjoyable -- and most importantly -- hassle-free shopping experience. For the finest in Louis Vuitton, Chanel, Prada, Gucci, St. John Knits, Christian Louboutin, Tiffany & Co. and more, visit RDR online at http://www.shopRDR.com or call 1-888-697-3725.
Also find shopRDR at:
Facebook: facebook.com/shopRDR
Twitter: twitter.com/shopRDR
YouTube: youtube.com/ shopRDR
Pinterest: pinterest.com/shopRDR
Rodeo Drive Resale (shopRDR.com)
1-888-697-3725
service(at)shopRDR.com