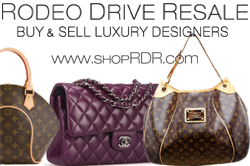 Thrift store shopping usually consists of donated goods whereas consignment shopping is usually designer or high quality goods that retain a better resale value.
Houston, TX (PRWEB) August 14, 2012
Budget-conscious lovers of designer clothing and accessories are always on the hunt for huge savings. Louis Vuitton bags, David Yurman Bracelets and discount St. John Knits jackets are classic and high quality pieces, and as a new season looms ahead, savvy shoppers recognize now as the time to begin investing in pieces for the fall. Today, Rodeo Drive Resale takes a look at consignment shopping and the many benefits it holds for buyers hoping to discover amazing deals on the top names in upscale fashion.
The beginning of fall is still several weeks away, but items such as a fitted jackets or turtleneck sweaters are already available in thrift and consignment stores. While both outlets offer savings on pre-owned goods, there are many differences between the two.
"Thrift store shopping usually consists of donated goods whereas consignment shopping is usually designer or high quality goods that retain a better resale value," Raya Jaffer, style expert and Co-Founder of Rodeo Drive Resale explained earlier this year. Designer discount newbies are often unaware of this major difference between thrift items and merchandise sold on consignment, which can lead to a bit of confusion.
At Rodeo Drive Resale, buyers can search new arrivals online from well known fashion houses such as Gucci, Prada, Jimmy Choo and more. Depending on the popularity of the site, sellers may range from individual clients, high profile celebrities or even actual boutiques, and unlike other resale stores, consignment stores are a bit more discriminating in items they are willing to accept. This means fall favorites such as cardigans, boots and blazers are likely to be in better condition when purchased through a consignment store.
Raya also suggested bargain hunters looking to one-up the competition on fall fashion deals carve out a good chunk of time to invest shopping when visiting an in-store consignment retailer.
"Go with plenty of time to look. Unlike a regular retail store that may have a handful of styles in multiple sizes, a consignment store is going to have multiple styles but not a limited number of sizes. You will need time to browse hundreds, or sometimes thousands, of individual items. Shopping consignment online is a bit easier especially with a site like ours, which has the capability to narrow items down according to size, style, color and price range," she said.
The final bit of advice is to routinely check back with consignment stores, as most are constantly bringing in new items. As Raya mentioned before, sizes and quantity may be limited, so revisiting what is in stock is the best way to ensure that a great deal does not become a missed opportunity.
Whether the idea is to take home an entire outfit, or just a few key pieces to expand an already fabulous fall wardrobe, now may be the time to take advantage of the pre-season sales available through online consignment shopping.
Rodeo Drive Resale (shopRDR.com) has built a reputation of providing amazing deals on handbags, clothing and accessories from the top designers of upscale fashion. The company offers a 100% guarantee of authenticity on each item sold, and works daily with a network of clients looking to buy, sell, or for consignment of their luxury goods. ShopRDR.com loves high-end fashion, and believes finding a high quality, classic piece should be an easy, enjoyable -- and most importantly -- hassle-free shopping experience. For the finest in Louis Vuitton, Chanel, Prada, Gucci, St. John Knits, Christian Louboutin, Tiffany & Co. and more, visit RDR online at http://www.shopRDR.com or call 1-888-697-3725.
Also find shopRDR at:
Facebook: facebook.com/shopRDR
Twitter: twitter.com/shopRDR
YouTube: youtube.com/ shopRDR
Pinterest: pinterest.com/shopRDR
Rodeo Drive Resale (shopRDR.com)
1-888-697-3725
service(at)shopRDR.com