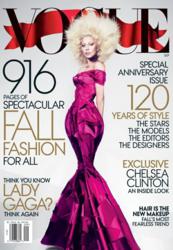 I'm encouraged by my bosses to wear these ridiculously high-heeled shoes because women say, 'I love your shoes!' So if it makes women happy, I'll wear them.
Houston, TX (PRWEB) August 15, 2012
To help luxury lovers stay informed on the latest in upscale style and Hollywood happenings, Rodeo Drive Resale, premier retailer of Christian Dior handbags, Gucci purses and other high-end favorites, highlights the latest in celebrity and designer fashion news.
1) CURRY CONFIDENTIAL: On June 28, 2012, Ann Curry announced that she would be leaving the Today Show. In the latest issue of Ladies Home Journal, the 55-year-old news anchor opened up about her sudden departure from the popular NBC morning show and the behind-the-scenes clashes that would occur between her and the show's producers over her wardrobe. "One day I wore a multicolored dress and someone asked if I was trying to be Toucan Sam," she said. "But I chose it because I thought, 'This will perk up America.'" Curry added that, on a few occasions, her choice of footwear would also be an issue. "I'm encouraged by my bosses to wear these ridiculously high-heeled shoes because women say, 'I love your shoes!' So if it makes women happy, I'll wear them. But I'm still going to be me… I've tried to wear clogs and flats on TV and it hasn't gone well with my bosses."
2) GAGA COVERS VOGUE. AGAIN: Lady Gaga recently revealed the front cover of the latest issue Vogue magazine to her 28 million Twitter followers. The cover, which features the international pop star in a hot pink fishtail gown by Marc Jacobs, is set to hit newsstands August 21. "I'm so excited to post the Sept. issue of Vogue in 30 min! Photographed by Mert & Marcus," she tweeted before uploading the photo. "Who else sees me channeling [Ru Paul] on the cover of Vogue. If only I was as fierce as you [are]. I did try to come for you with that weave," she teased moments after sharing the cover, her second for Vouge. Between the magazine sheets, Gaga discusses everything from music, to her notorious "meat dress," and her upcoming fragrance line.
3) FAREWELL, ANNA: The world of designer fashion was rocked by news that celebrated fashion writer Anna Piaggi died on August 7. The colorful style icon was found dead in her Milan home. She was 81. Best known for her two-page spreads in Vogue Italia, Piaggi worked closely with designer Karl Lagerfield in Paris during the 1960s and 1970s and became associated with countless other popular designers in the world of luxury fashion. A sight to be seen at runway shows, Piaggi rarely, if ever, left home without a hat, makeup and a dizzying assortment of accessories to compliment her already colorful wardrobe. Lagerfield on Piaggi: "She dresses the way one plays a role. She's a great performer, but she is also the author of the play."
Rodeo Drive Resale (shopRDR.com) has built a reputation of providing amazing deals on handbags, clothing and accessories from the top designers of upscale fashion. The company offers a 100% guarantee of authenticity on each item sold, and works daily with a network of clients looking to buy, sell, or for consignment of their luxury goods. ShopRDR.com loves high-end fashion, and believes finding a high quality, classic piece should be an easy, enjoyable -- and most importantly -- hassle-free shopping experience. For the finest in Louis Vuitton, Chanel, Prada, Gucci, St. John Knits, Christian Louboutin, Tiffany & Co. and more, visit RDR online at http://www.shopRDR.com or call 1-888-697-3725.
Also find shopRDR at:
Facebook: facebook.com/shopRDR
Twitter: twitter.com/shopRDR
YouTube: youtube.com/ shopRDR
Pinterest: pinterest.com/shopRDR
Rodeo Drive Resale (shopRDR.com)
1-888-697-3725
service(at)shopRDR.com