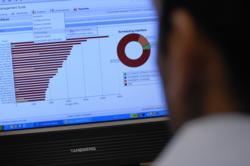 We have found that people are transitioning to watching a quick how-to video
Henderson, NV (PRWEB) August 13, 2012
Compass Business Solutions, a company who offers more training options for Cisco's TelePresence product line than any other, has added another course for its students. TMS Scheduler adds one more on-demand source of information for telepresence and videoconferencing users.
"We have found that people are transitioning to watching a quick how-to video, and more are starting to prefer that rather than reading a manual. The TMS Scheduler course is one more bridge to that instant need for visual instruction," stated Jules Trono, President of Compass Business Solutions. Compass is the largest provider of telepresence and videoconferencing training in the US and also offers private training sessions globally.
"Our technical students have been asking for training assistance for their non-technical coworkers," stated Donna Wyvill, Content Development Manager with Compass. "We are creating solutions for telepresence product training by addressing the most commonly used products first, such as C-Series endpoints and TMS, and will continue to address how-to-use training needs for the complete Cisco product line."
Students or companies interested in learning more about Compass' training programs in the US and globally can visit http://www.compassprogram.com, and can contact Lisa Santiago at +1 (760) 688-4045 or +1 (877) 234-0635 for more information.
About Compass Business Solutions
Compass, the nation's largest provider of telepresence and videoconferencing product line training, provides a one-stop resource for sales, technical and end-user training for visual communication products
Compass Business Solutions is a learning company focused on helping people use and support video communication and telepresence technologies to improve their business. Training sessions follow a best practices approach to optimize all aspects of video usage and support. Compass was founded in 2008 by industry professionals who have been working with telecommunication and video technologies since 1989 and who helped launch Tandberg University in the USA in 2006, then becoming Cisco's first authorized TelePresence Specialist Learning Partner in the US.