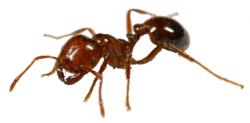 Once fire ants find a way to enter into your home, they typically come in very large numbers, and it becomes virtually impossible to keep them out
Houston, TX (PRWEB) August 10, 2012
In Houston, fire ants are always an issue during the summer. No matter how many traps that are set out for them, or times someone spreads pesticides through their yard, they always seem to come back. Fortunately, there are certain Houston fire ant control techniques that are good to know. Houston Pest Control services are trying to keep people educated on how to protect their family and pets. No one is safe from them, and if a person is allergic, it could mean the difference between life and death.
While most people when stung by fire ants only get small red bumps that heal in a couple of days, about 5 out of every 100 people are deathly allergic. Fire Ants are Hymenoptera, which are in the same family as wasps and bees. With that in mind, Fire Ants are literally causing a lethal environment in Houston infesting a majority of its residential land.
As crazy as it may seem, Fire Ants were not originated in the US. They actually entered the United States in the late 1930s aboard cargo ships from tropical South America. The Cargo ships landed in Mobile, Alabama, and immediately migrated throughout the United States.
Since that time, Fire Ants continue to infest our nation and make Houston Fire Ant Control more and more difficult. Fire Ants are now considered the most aggressive Houston pest control problem. Homeowners are being infested from every angle. Houston Pest Control expert and owner of Accucheck Pest Control, Steve Silva says, "Allowing these pests to get out of control can result in serious implications to the safety of a person's home. Once fire ants find a way to enter into a resident's home, they typically come in very large numbers, and it becomes virtually impossible to keep them out."
Accucheck Pest Control is a Kingwood Pest Control company serving Houston and surrounding areas. It is locally owned by Steve Silva. Steve has been a Kingwood resident for over twenty five years. He has been providing quality service to customers throughout the Greater Houston area for over twenty years in the Pest Control Industry, and continues to be an active member of the Greater Houston Pest Control Association.
House owners can select from numerous methods to eliminate fire ants and protect against painful stings. Quite a few fire ant insecticides are broadcast products, which cover a wide area and inconveniently eliminate helpful insects as well as fire ants. Local retailers supply many chemicals, which includes bait compounds and drenches, which happen to be generally environmentally unfriendly. Look at the labels, since most chemicals may be harmful to pets and children if ingested.
A few natural pest control options include utilizing dry ice or lye soap to kill ants; however, persistence is necessary because these methods may require a number of applications. These steps also could potentially cause blisters and burns when they come in contact with the skin.
Houston Pest Control companies like Acucheck Pest Control, employ environmentally friendly pest control or Low Impact solutions that are safe for family and pets. This is now becoming the preferred way to rid homes of pest, due to harmful effects that toxic pesticides can have.
For Houstonians, fire ant control is very important, especially if one has young children and pets. Once a nest has been breached, fire ants can cover a body within second. One should always have a professional come out to their home to keep it safe. There are many environmentally friendly solutions that can help prevent fire ant attacks.