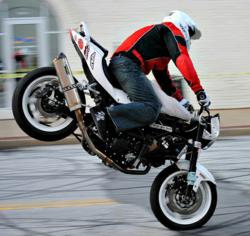 I pushed the GT650 to the extreme and put it to the test in 2011," states Borne. "Time and time again, it impressed me. I am still using my original stock frame and engine.... I cannot wait to show the world the amazing abilities of the new 2012 version.
Atlanta, GA (PRWEB) August 14, 2012
Borne Freestyle Entertainment is excited to announce that Hyosung Motors America will once again be Pro-Streetbike Freestyle Athlete, Josh Borne's Title Factory Sponsor for the 2012-2013 seasons. This marks the second year Hyosung Motors America has teamed up with the extreme pro-sport of sportbike freestyle.
Josh Borne, who is currently in his eighth XDL National U.S. Championship pro-season, debuted Hyosung Motors America's 1st ever "Police Edition" drift GT650R a.k.a. "Glory" and brand new 2012 Competition GT650 a.k.a. "Patience" at the inaugural 2012 XDL National Sportbike Freestyle Championships at the Maryland International Raceway, Mechanicsville, Maryland.
Over 7,000 motorcycle aficionados perused the Borne Freestyle Entertainment–Hyosung display at the MIROCK Superbike Drag Racing Series WPGC Bikefest and XDL Championship. A crowd favorite, the Hyosung fleet of motorcycles including stunning cruisers: Hyosung ST7 and GV650, powerful GT650s and a stylish Hyosung GT250R.
"I am pleased to be sponsored once again by Hyosung S&T Motors," states Borne. "This year we are expanding our relationship to bring the Hyosung brand to more of America and showcase the entire fleet of motorcycles. The whole Hyosung line has so much unseen potential, and I am exited to unveil these incredible machines to the freestyle world and beyond."
Competing for the XDL Cup (the U.S.'s most coveted Sportbike Freestyle Title/Award) on his GT650, Josh Borne will battle this season against the best in the world including competitors from Poland and Japan. He is the only professional licensed freestyle athlete to ride a Hyosung S&T Motors manufactured V-twin motorcycle in the National Championship Series. XDL Sportbike Championship 2012 events include D.C., Maryland; Long Beach, CA; Indianapolis, IN; Albuquerque, NM and Portland, OR; and the competition series will air later this fall on NBC.
In addition to a five stop competition pro-tour, Borne Freestyle Entertainment will kick off a Hyosung Motors America tour stretching from the east to the west coast. This exhibition tour will feature freestyle action along with informative demonstrations on the full Hyosung motorcycle line.
Hyosung Motors America, part of the S&T Motors Co., Ltd. (Korea), offers motorcycle enthusiasts innovative technology, superior quality and stylish motorcycles, scooters and ATVs. The GT250 series is a fuel efficient, eye catching sportbike with precision handling; perfect for riders seeking a sleek but lighter ride. While the agile and light weight make of ST7 and the smooth handling, modern GV650 gives cruiser lovers an affordable option without sacrificing quality or power. With unlimited potential of technology, Hyosung's GT650's revolutionize the arena of extreme sportbike freestyle with an ultra-modern image. No matter the model, Hyosung's cutting-edge designs provide ultimate comfort and extreme performance.
"I pushed the GT650 to the extreme and put it to the test in 2011," states Borne. "Time and time again, it impressed me. I am still using my original stock frame and engine. The frame is solid and the engine is running at top performance. As a freestyle athlete, that says a lot about these exceptional machines. I cannot wait to show the world the amazing abilities of the new 2012 version."
Josh Borne is one of the nation's premier sportbike freestyle athletes. Borne's passion for streetbikes began in 2004 when he bought his first motorcycle while earning his Bachelors Degree in Mechanical Engineering. Early on, he discovered his natural talent for sportbike freestyle and quickly excelled to professional competition level. In 2007 and 2008, he was a World Championship Finalist, and in 2010, he won second place in the Circle Challenge at the X-Games Pro-Series Freestyle Exhibition in Los Angeles, California.
Today Borne resides in Newnan, Georgia and is a world known pro-licensed freestyle rider. Known best for his high energy riding, drifting, precision stoppies and technical riding ability, Borne's exhibitions attract thousands of spectators and fans. Borne has been featured on Discovery Channel, Versus TV, Speed TV and ESPN. While other freestyle athletes run race numbers like Nascar, Borne runs 1:9 for the Bible verse: Be strong and courageous. Do not be terrified; do not be discouraged, for the Lord your God will be with you wherever you go. Joshua 1:9.
For more information on pro-athlete, Josh Borne, visit online at http://www.bornefreestyle.com. To view Hyosung Motors America products or find out more on how to test drive or purchase your own Hyosung motorcycle visit online at http://www.hyosungmotorsusa.com
Borne Freestyle Entertainment's mission is to provide the public with unprecedented streetbike freestyle entertainment, while focusing on the professionalism of the extreme sport of motorsport freestyle and the education of rider safety. Borne Freestyle Entertainment educates through public exhibitions, school presentations and charity performances.