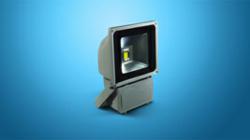 Zhongtian Lighting today announced its new product 70W LED flood light.
(PRWEB) August 23, 2012
In order to meet the growing demands of LED flood lights with high quality and affordable price by customers, Zhongtian Lighting today announced its new product 70W LED flood light. This model is used for illuminating wide areas such as streets, warehouses, parking lots, advertising boards, yards, lawns and gymnasiums and so on. It wins many advantages through the up-to-date technology.
Zhongtian Lighting has been devoted to improving its product performance. The unique power supplies and brand chips ensure the stability of operating LED flood lights. A wide working temperature ranges from -40℃ to 55℃, which enables it to work well even in the harshest conditions. The 6030 aluminum and PC covers help LED flood lights to protect from high heat, vibration and water etc.
Besides, its light weight and small size make it easier to transport and install. The output lumens of 70-watt LED flood light are from 6300lm to7000lm. Its color temperature is optional with 3000K-35000K, 4000K-45000K and 5500K-6500K. Its power management has been optimized for 90-100lm/W luminous efficacy with 0.98 power factor. With new technology, it will be more reliable and effective to solve the heat release issue and keep the quality of Zhongtian Lighting LED flood lights more stable. Zhongtian Lighting's latest generation improves the module design, using the latest high brightness brand chip and the newest high quality lens and the excellent heat dissipation design, the luminous efficiency is much higher and much more effective. What's more, achieving the CE, RoHS and other global certificates enables customers to use it safely to a large extent.
Zhongtian Lighting is committed to developing a product that is not only delicate and energy efficient, but also is functional without any compromise to light quality or performance, which gives rise to a huge achievement and wins a place in the LED lighting industry for it. Combined with other LED lights such as LED bulbs, LED spot lights, LED down lights, LED tube lights, which will strengthen its power and better its management system for building a good image in the world market.
For more information, please visit http://www.ztlights.com/LED-Flood-light.html