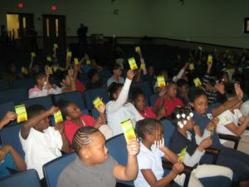 Dr. King had his dream; Daniels has a dream to inspire the children of the world to symbolically participate in its fulfillment
Springfield, IL (PRWEB) August 10, 2012
As the eldest grandson of Ross Daniels, the inventor of the Ross Root Feeder (R), Marc Daniels is calling upon the children of this country to help root feed society by emailing the White House on August 28, 2012 to lobby for peace. Moreover, Daniels is requesting that members of the entertainment industry create and promote "Weed Out Hate" songs, and that bloggers throughout the country and around the world help spread the word.
Weed Out Hate is a global peace initiative that connects young people through the power of gardening, showing them the power to exterminate the bad and draw upon the good in their relationships. Children relate rooting out negative behavior by extracting weeds in the yard and garden, and planting respect by planting symbolic sunflower seeds of peace. Currently being used at schools, community gardens, and. churches.
To implement this plan, anti-bullying themed Sunflower Peace Seeds were distributed to children throughout the United States and Germany...to date more than 35,000 packs. On the back of each pack is an action trigger to email the White House to lobby for a globally televised "Weed Out Hate" event. The children of the Feitshans Acadamy in Springfield held of political convention on Martin Luther King, Jr Day in January of 2012, to cast their ballots for peace. On April 3rd, 2012, Springfield Mayor Michael Houston proclaimed Weed Out Hate; Sow the Seeds of Peace Day in the Gardens of the Lincoln National Homesite. Similar proclamations have been issued by Chicago Mayor Rahm Emanuel, Illinois Governor Pat Quinn, and Iowa Governor Terry Branstad since the campaign began in August of 2010.
The concept is based upon German language book, "Der Himmelsgarten", published by Allegria Verlag (Berlin) 2011. After rooting and illuminating Martin Luther King, Jr's rhetoric in Kabbalah, idea was conceived to mobilize the children of the world to "weed out hatred" for commemorating the 50th anniversary of Dr. King's "I Have a Dream" speech on August 28th, 2013. Children from all over the world are asked to email the White House, to kick-off this campaign on August 28, 2012
Dr. King had his dream; Daniels has a dream to inspire the children of the world to symbolically participate in its fulfillment. And who knows, this just might be the kind of catalyst to trigger world peace.