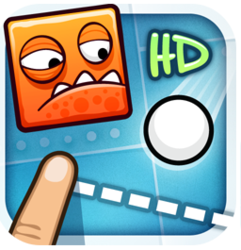 Corona SDK has been a joy to work with - its ease of use, robust APIs, and unmatched development speed make it our go-to platform.
Palo Alto, CA (PRWEB) August 10, 2012
Elevate Entertainment, the Michigan-based indie game studio, is pleased to announce the launch of Draw Breaker, a game developed with Corona SDK, the leading tool for cross-platform mobile development. Apple also selected Draw Breaker for a prestigious feature in the App Store, in tandem with the game's release. Draw Breaker is the latest title from Elevate, a studio that boasts an impressive portfolio of popular apps including the top-ranking Float and Mosquito Madness games. Float has enjoyed more than two million downloads, reaching #1 for Family apps, while Mosquito Madness ranked in Top 5 Arcade games in App Stores around the world.
Draw Breaker's lead antagonist, Professor Blockowski, and his block army are on a mission to make the world square. Inspired by the classic brick breaker genre, players must foil the professor's evil scheme and maintain a safe round world, by using lightning-fast reflexes and quick-thinking. The game features 16 unique monsters with playful personalities and abilities, over ten powerups including bomb, acid, and fire balls, and nine unique rounds per game episode. Draw Breaker is offered in 12 languages, and is available as a free download in the App Store.
"We can't wait for players around the globe to enjoy our new game. After three months of development, we're proud to release Draw Breaker and honored to see the game featured by Apple in the App Store," says Brock Henderson, CEO of Elevate Entertainment. "Thanks to Corona, we were able to develop Draw Breaker twice as fast than it would have taken to build natively. Corona SDK has been a joy to work with - its ease of use, robust APIs, and unmatched development speed make it our go-to platform."
"We're honored that Elevate has standardized on Corona SDK, building an assortment of chart-topping apps with our platform," says David Rangel, COO of Corona Labs. "Elevate has a strong record of creating high caliber, family friendly content and Draw Breaker is no exception. Our team is humbled to have played a role in the indie studio's success and we're excited to watch Draw Breaker climb the App Store ranks in coming days."
The award-winning Corona SDK is enjoyed by over 150,000 developers around the globe and has been used to publish more than 20,000 high quality apps to major markets. Building with Corona SDK, developers can create apps for iOS, Android, NOOK and Kindle Fire devices with a single code base. In early August, Corona Labs unveiled Corona Enterprise, an advanced cross-platform mobile development tool for game studios, agencies, and seasoned indie developers. Based on the popular Corona SDK's elegant APIs and ease of use, Corona Enterprise also adds the ability to call any native Objective-C or Java library.
ABOUT ELEVATE ENTERTAINMENT
Michigan based Elevate Entertainment LLC (http://www.elevatefun.com) is a game development studio dedicated to elevating the place of fun in daily life. Founded in 2009, the studio has released seven games for iOS, Android, Kindle Fire, and NOOK, including the hit game Float. With millions of customers currently playing Elevate's games, the studio looks to a bright future and continued cross-platform development.
ABOUT CORONA LABS INC.
Corona Labs Inc. (http://www.coronalabs.com) is a venture-backed mobile software company based in Palo Alto, CA. Corona Labs' marquee product, the award-winning Corona SDK, democratizes app development by empowering developers, from independents to large studios, to create cross-platform applications, games and eBooks for iOS™, Android™, Kindle Fire®, and NOOK™. Boasting a community of over 150,000 developers worldwide, apps created with Corona have been downloaded more than 60 million times within the last year alone.
Follow us on Twitter (http://www.twitter.com/coronalabs) and like us on Facebook (http://www.facebook.com/coronalabs).