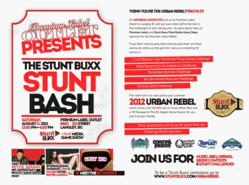 Did you know Stunt Buxx has given away over $10,000 in cash prizes since July 1st. 2012
Langley, B.C. Canada (PRWEB) August 10, 2012
Lock up your sons and daughters, the summer's most twisted party is coming!
You'd better be at Premium Label Outlet in Langley, B.C. Canada on Saturday, August 11th, as we release the hounds for our very first, EPIC, Stunt Buxx Stunt Bash!
Be there to cheer 'em on as wanna-be Urban Rebels compete head to head in five unique, urban style challenges of skill, smarts, and ballsy-ness, as Stunt Buxx Viral Media Game Show searches for their first ever Urban Rebel.
Love being grossed out on that TV show where people eat bugs 'n stuff? Can't get enough of seeing people being physically punished on that show where people wipe out?
Just wait'll you see what the Stunt Buxx throws at these so-called Urban Rebels!
They'll be begging for mercy, but you'll be laughing your ass off.
Since July 1st, Stunt Buxx Online has given away over $10,000 in cash prizes with their Viral Media Game Show, where contestants take part in challenges from home and win cash almost every day by uploading their video entries.
'Now it's time to hit the streets and interact face to face with our contestants. This has become an incredible community event for Langley, where local merchants have rallied around and sponsored our contestants and show' Says Ryan Bennett, Executive Producer and Co-Founder of Stunt Buxx.
The Urban Rebel contestants will be faced with challenges such as; Hey Chump, Let Go Of My Flag, where contestants have 60 seconds to remove as many flags from a Black Belt's waist or X-Treme Paintball, where contestants square off in a game of well, shirtless paintball. Ouch!
And if that's not enough, the Stunt Bash has BBQ, Bikinni Contest, Lingerie Football League Girls, LIVE BAND Celestial Ruin, and many door prizes just for being an audience member.
'We're not only shooting an episode of our show, but we're also hosting a kick ass block party! Says Mitch Berger, the only kicker to ever be named to the All-Madden Team, Superbowl Champ, and now Stunt Buxx Viral Media Playmaker.
The event starts at 12:00pm (PST) at Premium Label Outlet. 8860 201 St. Langley, B.C. and runs until 6:00pm
Who will be the next Urban Rebel?
[http://www.stuntbuxx.com/urbanrebel
'