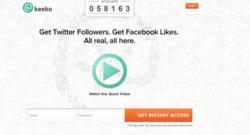 Ottawa, On (PRWEB) August 10, 2012
While social media network Pinterest had recently announced that they've opened their doors to all and no longer require invites for potential users to open an account, social media exchange site Keeko is also starting initial work on catering to more social networks in its system.
Currently, Keeko.com allows users to gain Twitter followers, Google +1s and LinkedIn shares. Soon, Keeko will also include Pinterest in its list of accommodated social media networks, along with Youtube and micro-blogging site Tumblr. As of press time, Keeko has begun work on integrating functionalities that allow users to increase their following on Tumblr,
Launched in 2007, Tumblr is currently among the top 5 preferred blogging platforms on the web. As of last month, the service has 64.7 million blogs, with 71.6 million posts created on a daily basis.
"We can assume that our users are adept at using social media, and most people manage more than one account. One may have both a Twitter account and Tumblr blog especially if you've got some form of business that you're promoting online, so it's definitely imperative that we are able to cater to our users' varied needs," says Diana Quartin, Creative Director of Clicking Labs.
With the integration of new functions, Keeko's point-system remains the same. Interested parties can begin promoting their online accounts by logging on to http://www.keeko.com, where they can accrue points by following and sharing other social accounts as well.
Users can then redeem these points by getting Twitter followers, LinkedIn shares, and others.
Aside from their website, information and updates can also be found on their Twitter page.
About Keeko
Keeko is a wholly owned company by Clicking Labs. With dedication and perseverance they were able to bring together a diverse team of web professionals to provide internet businesses with creative web marketing strategies. Founded in Ottawa, Canada, the company has expanded operations to Cebu, Philippines in early 2011 to better serve its clients.