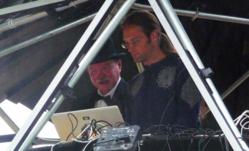 "This is our first big festival gig! We can't wait to do another one like it!"
Alsea, Oregon (PRWEB) August 11, 2012
Chaos Control, the unusual musical project of Planewalker and Mister Chill'R, got their debut as a main stage act in America's exploding electronic music festival scene at the second annual Human Nature Festival this year. Having taken place June 27-30, deep in the back woods of rural Oregon, this event of epic proportions featured a massive line-up of 56 DJs and live electronic music acts. It drew festival-goers, electronic music enthusiasts, vendors and campers by the hundreds from California to Washington, and represents one of largest of such events ever to grace southern Oregon.
Having been holed up in their studios for most of the winter and spring, both Planewalker and Mister Chill'R were thrilled to get the chance to show off their latest songs in a 90-minute live set featuring all-original, mostly unreleased tracks that they played to bring down the sun on Saturday night. Beginning with their low-key chill-out track "Enigmatic Encounter" and progressing into a glitch hop direction with remixes of Desert Dwellers and Variant Fields, Chaos Control got the dance floor going long before dark with the funky, swung, mid-tempo beats enjoying growing popularity across the west coast. The middle section of the set segued into dubstep with a world-music feel, featuring their new single "Marrakesh Mourning", which is due to be released worldwide today, July 11, on Beatport and iTunes, as well as "Arabian Analog" which is due for release next weekend. They wrapped the performance up with a huge tempo shift into their much more high-energy track "Miracle Mysterium", an atmospheric drum 'n' bass song featuring live guitar instrumentation and a deep, earth-shaking bass line reminiscent of the late 90's UK electronic music phenomenon LTJ Bukem. The musically diverse set was recorded in full, and is scheduled to be released as a continuous mix near the end of the year after all the songs in it have made it to the stores individually through their record label, Waveguild Records.
The setting for the performance was truly otherworldly, featuring a massive, Burning Man-level stage custom-built by Niko Mantele of spaceshaping.net, perhaps the country's most skilled decorator for electronic music events. Reminiscent of his stages for Symbiosis Festival and Coachella, it featured a 16-foot diameter geodesic sphere suspended inside a pyramid-like structure of stretchy fabric, with multiple lasers and lights attached all over it. Looking great in the daytime placed at the end of the largest meadow at the farm, it really shined when the sun came down, lighting up like a space ship and slowly shifting through all the colors of the rainbow.
"This is our first big festival gig," Chaos Control said to fans after the performance. "We can't wait to do another one like it!"