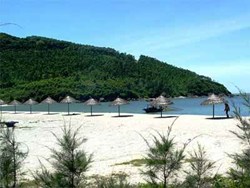 Smile Travel Vietnam is making its on-going effort to attract more customers. By opening many cheap tours in Danang, it expects to raise the trust and satisfaction of customers
(PRWEB) August 11, 2012
To cater for the increasing number of visitors to Danang, Smile Travel Vietnam, the leading travel agency in Vietnam, has launched many cheap tours in Danang city. Offering the cheap price, Smile Travel Vietnam also ensures to serve customers with the best service. In fact, its quality has been highly appreciated by customers for many years. Tours in Danang, therefore, is really worth booking.
Danang, the fourth largest city in Vietnam, has such many beautiful scenic spots that it is unforgettable to many tourists. Apart from some shopping highlights and historical sights, it is well-known for China Beach, Lang Co Beach, Hoi An, and My Son. All makes travelers fall in love with the city once coming there.
Lang Co Beach is lined with palm trees, crystal-clear water, and white sandy beaches. It is a peninsula surrounded with a sparkling lagoon and the beach. In addition, China Beach is beautiful and lively. Water sport activities here are in abundance, and it can get very crowded over weekends and holidays. Da Nang's coastline, stretching 30 kilometers is celebrated for cool waters and renowned for fishing, water-skiing, diving, and yachting. With an airport with daily flights a train station, Da Nang is easily accessible. Besides, there are many good hotels for tourists to choose, ranging from cheap to luxurious ones.
Mentioning about Danang, experienced tourists see it a beautiful city on the Han River, the East Coast with the attractive features. It is the combination between nature and man, tradition and modernity. Coming here, tourists will be impressed by its great specialties such as wheat, pork, cake, beef, sauce, and sesame bread.
Smile Travel Vietnam is making its on-going effort to attract more customers. By opening many cheap tours in Danang, it expects to raise the trust and satisfaction of customers. With only $35 - $122, customers can enjoy a tour of Danang – Hoian in 1 day. Many other attractive tour packages are available to customers. If tourists book tours in Danang soon, they can have a chance to get a discount of 50% for all tour packages.