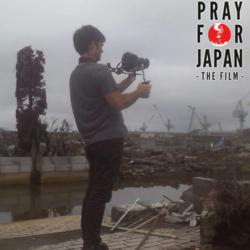 "Our film's message of compassion, selflessness and hope is a life-affirming one that never becomes irrelevant," said filmmaker Stu Levy.
Tokyo, Japan (PRWEB) August 13, 2012
On the heels of its successful theatrical run with AMC Theaters in North America and Cinem@rt in Japan followed by over 50 screenings across the globe, worldwide sales rights to filmmaker and manga publisher TOKYOPOP founder Stu Levy's PRAY FOR JAPAN have been acquired by Australian based sales agency Odin's Eye Entertainment (OEE).
The first distribution deal under the arrangement is for full coverage of Video On Demand via cable, satellite and online outlets in the United States and Canada, available immediately. Further, the Pray for Japan DVD and Blu-Ray will be available through BayView Entertainment.
In addition, Levy is working with Tugg, Inc. ("Tugg"), a web-platform that lets audiences bring the movies they want to their local theater, to launch the films' community-based "Host-a-Screening Program" in the United States. Through Tugg's innovative online system, any individual or organization can host a screening of the film in their local movie theater. Non-theatrical screenings and theater bookings outside the USA are also supported directly via the Pray for Japan website (http://www.prayforjapan-film.org).
Continuing with the film's not-for-profit mantra, all producer profits will be donated to Japan-based charitable organizations working in the devastated Tohoku region.
Filmmaker Stu Levy said, "It's exciting to initiate Phase 2 of the Pray for Japan distribution plan – and to do it in such an innovative way with these great partners. The recovery in Tohoku will take years, and the rest of the world needs to pay attention so we can learn from the successes and mistakes. And, of course, our film's message of compassion, selflessness and hope is a life-affirming one that never becomes irrelevant."
OEE's Michael Favelle said: "Pray for Japan is a remarkable tribute to the resilience of the Japanese people. We are very proud to be involved in this important work'.
Please see http://www.PRAYFORJAPAN-film.org for a list of all ON DEMAND outlets, screenings, and DVD availability.
ABOUT THE FILM
PRAY FOR JAPAN concentrates on four key perspectives of the tragedy – School, Shelter, Family, and Volunteers. With each perspective we meet victims who faced significant obstacles and fought to overcome them. Through these four vantage points, the audience is able to understand the vast ramifications of this large-scale natural disaster – and the battle these real-life heroes fought on behalf of their loved ones and their hometown. The film is an entirely non-profit endeavor.
ABOUT STU LEVY, FILMMAKER
Stu Levy is an international entrepreneur, producer, director and writer across mediums including graphic novels, film, television and new media. Founder of the pioneering media company TOKYOPOP, Levy is known for establishing the manga market in North America. Levy has directed two feature films, his feature documentary PRAY FOR JAPAN and his award-winning feature debut VAN VON HUNTER, and the 8-episode docu-reality series "America's Greatest Otaku". His first major studio feature film as Executive Producer was PRIEST, released theatrically worldwide in 2011 through Sony Pictures. As a producer, Levy has a number of live-action and animated feature films and television shows in various stages of development, including adaptations of his graphic novels Princess Ai and Juror 13. Fluent in Japanese, Levy also serves as chair of the Producers Guild of America's International Committee and was previously a Board Member of its New Media Council.
ABOUT ODIN'S EYE
Established in 2006, Odin's Eye Entertainment (OEE) is an Australian based Sales Agent, Distributor and Production company. OEE represents and distributes an eclectic mix of Feature Films, Documentaries and Television properties.
Official website: http://www.odinseyeent.com
ABOUT TUGG, INC.
Tugg, Inc. ("Tugg") is a collective action web-platform that enables individuals to choose the films that play in their local theaters. Through Tugg, individuals are empowered to select a film, screening time, and nearby theater, and then spread the word to their immediate and online community. Once a necessary amount of people commit to attending, the event will be confirmed, and Tugg will reserve the theater, manage ticketing and ensure delivery of the film; allowing the audience to sit back and enjoy the show. Tugg is currently working with exhibitors Alamo Drafthouse Cinema, AMC Theatres, Bow Tie Cinemas, Cinemark Theatres, Goodrich Quality Cinemas, Rave Cinemas and Regal Cinemas, as well as additional regional and independently-owned theaters across the country. These exhibitors will provide theatrical venues for individually curated events showcasing Tugg's growing library of hundreds of studio and independent films.
ABOUT BAYVIEW ENTERTAINMENT LLC.
BayView Entertainment, LLC is America's number one independent distributor of special interest and fitness DVD releases (according to "DVD Release Report", 8/2/2012). BayView has made its name by being dedicated to releasing only the best DVDs from the most trusted names in the field and has forged relationships with the top names in the industry. BayView's catalog of feature film releases includes award-winning titles from Five Points Pictures, Tanelorn Films, and Retromedia Entertainment. BayView's titles in the fitness and wellness category include DVDs from Yoga Journal Magazine, Black Belt Magazine and notable fitness personalities such as Kathy Smith, Gilad, Tamilee Webb, Scott Cole, among others. BayView's DVDs are available throughout the country at fine retailers everywhere as well as all major online stores. BayView can be found online at http://www.bayviewentertainment.com.