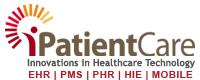 Increasing drug safety and better decision making by integrating PDR Services
Woodbridge, NJ (PRWEB) August 10, 2012
iPatientCare, Inc., a pioneer in mHealth and cloud based ambulatory EHR, integrated Practice Management and Patient Portal solutions announced today a new partnership with PDR Network, the leading distributor of FDA-approved patient drug safety and support services for EHR and e-Rx platforms, to incorporate PDR Network services into the iPatientCare electronic health record (EHR) platform. Through this agreement, iPatientCare users will soon have access to PDR Network's updated drug information, safety alerts, medication adherence and product support programs, which will enhance their experience and further enable them to provide optimal patient care.
Stressing the need for drug safety and better decision making, John Bartley, MD, iPatientCare's Chief Medical Director said, "Integration of PDR services into iPatientCare ePrescribing and EHR will provide physicians with the full legally mandated information relevant to writing prescriptions, widely used by other medical specialists, and in significant part valuable to consumers."
"With the innovations and expansions leaping far ahead from good old integrated products to addition of PDR Network's suite of interactive drug services into iPatientCare Software, it would play a crucial role in providing critical drug safety and clinical information to physicians within their workflow," said Shripal Shah, Senior Technology Officer, iPatientCare.
"As the use of EHR platforms continues to become more prevalent in medical practice today, the need for efficient tools to support prescribers and their patients is greater than ever," said Andrew Gelman, Senior Vice President, Corporate Development, PDR Network. "With this partnership, we are proud to welcome iPatientCare to our growing PDR Certified EHR vendor network, now totaling over 180 EHRs reaching more than 87,000 prescribers."
About iPatientCare
iPatientCare, Inc. is a privately held medical informatics company based at Woodbridge, New Jersey. The company is known for its pioneering contribution to mHealth and Cloud based unified product suite that include Electronic Health/Medical Record and integrated Practice Management/Billing System, Patient Portal/PHR, Health Information Exchange (HIE), and mobile point-of-care solutions that serve the ambulatory, acute/sub acute, emergency and home health market segments. iPatientCare EHR was among the first to be certified by CCHIT in July 2006 and is currently CCHIT 2011 fully certified and ONC-ATCB 2011/2012 Certified Complete EHR for Meaningful Use. The company has won numerous awards for its EHR technology and is recognized as an innovator in the field, being a pioneer to offer an EHR technology on a handheld device, an innovative First Responder technology to the US Army for its Theatre Medical Information System, the first to offer a Cloud based EHR product. iPatientCare is recognized as one of the best EHR and Integrated PM System for small and medium sized physicians' offices; has been awarded most number of industry Awards; and has been recognized as a preferred/MU partner by numerous Regional Extension Centers (REC), hospitals/health systems, and academies. Visit http://www.iPatientCare.com for more information.
About PDR Network
PDR Network, LLC is the leading distributor of FDA-approved drug labeling, safety and REMS information, as well as medication adherence and product support programs, through the Physicians' Desk Reference® suite of digital and print services. PDR Network's innovative products deliver industry-leading content to prescribers and patients across channels, including via its growing "PDR Certified" EHR vendor network. PDR Network's comprehensive offering of interactive drug information services are designed to be easily integrated with any EHR or ePrescribing system and enhancing the EHR, provider and patient experience. For more information about PDR's EHR partnership program, please visit http://www.pdrnetwork.com.
Contact:
iPatientCare, Inc.
Udayan Mandavia
Phone: 800-741-0981 | Email: info (at) ipatientcare (dot) com
PDR Network
Thomas Eck
Phone: 201-358-7424 | Email: Thomas.eck (at) pdr (dot) net