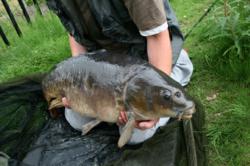 Bolton, Lancashire (PRWEB) August 10, 2012
Daniel Robinson of Carp Baits Online urges wannabe anglers that there's no better time to take up the sport and is promoting specifically designed to exploit such temperamental weather conditions.
After twelve weeks of unpredictable weather which produced record-breaking rainfall across Britain, forecasters predict that the jet stream pattern blamed will soon change course, ending the miserable spell. So far 2012 has achieved the wettest April to June period since records began.
"Flooding has made many rivers burst their banks with lakes and reservoirs flooding over," says Mainline baits supplier, Daniel Robinson. "At the start of the summer I was unaware of how unpredictable the weather was going to be and the Met Office reports two months ago were mentioning the jet stream that was further south than normal. It was then I noticed that more experienced anglers were reporting a higher frequency of catches and sales on products specifically for fishing in wet, cloudy weather were rapidly increasing. Talking to fellow anglers proved my suspicions were correct and it was the wet summer conditions that were increasing the number of successful fishing days for everyone."
The jet stream, a high-altitude belt of wind was the cause, residing in an unusually southern location, but is now expected to move northwards, bringing the UK long periods of normal summer weather for the first time this year. This potential change would put an end to the serious flooding which affected most areas in the UK, with many seeing a month's worth of rain in a single day. In July 2012, 171 locations around the country were issued with flood warnings by the Environment Agency simultaneously, whilst other areas experienced rainfall that was above average.
Daniel Robinson is a co-director of Carp Baits Online and is encouraging amateurs and people new to the sport to get involved as the damp weather is actually an excellent environment for carp fishing. "This kind of weather actually increases the chances of carp fishermen getting a catch. Rain in warm, muggy weather increases the oxygen level in the water, freshening it up and making the carp more sensitive to the smell of carp baits. So far there haven't been many fans of the weather this summer but as anglers, we couldn't have asked for better. The news of the jet streams changing position means that although the weather will become warmer, it will be in late August to September so the rain is more than likely to continue with the catch rate remaining higher than normal."
The jet stream that has affected the UK's summer so badly has been a lot further south than usual, bringing wet and cold weather to most of the country, pushing bad weather and low pressure a lot further north.
"Weather affects the fish, even wind direction impacts how and when the carp feed. They have a highly sensitive sense of smell and can sense any dissolved substances in the water allowing them to decide whether potential food is good or bad. As the wind blows across the water, the undercurrents stir food from the floor which attracts hungry fish," says Daniel Robinson, suppliers of carp baits (including Mainline baits).
In total, there are four main jet streams of wind circulating the globe - with two in the northern and two in the southern hemispheres. Their paths are always varied, but wherever possible, aircraft flying between North America and Europe usually take advantage of the northern hemisphere polar jet to speed their journeys.
Normally the jet stream located to the North of the UK is why a British summer is a cooler version of what is experienced elsewhere in Europe but for much of 2012 it has been a lot further south incorporating high velocity winds that have drenched the country in moisture sucked from the Atlantic Ocean causing the increases in rain and flooding.
"Warmer weather equals warmer water temperatures and that affects your fishing, reducing the number of catches as carp change their feeding habits," says Carp Baits Online director Daniel Robinson. "From experience, once the fish are used to long periods of warmer water temperatures normal feeding resumes, but for this period you can improve your success by using boilies - smaller and softer than your usual carp baits. One of the main reasons I recommend Marukyu is because of how effective it is - carp enjoy the smell and taste and their olfactory sense finds these elements very attractive."
On the other side of the Atlantic, the effects of the jet stream have been the opposite with more than half of the US declaring weather-related disasters in 26 states as the effects of a drought take hold. The jet stream is however expected to move further north to its usual position this month with experts predicting that the weather in the UK resume normality.
"What that means is that it's taking those weather systems further north with it, so things should really settle down a little bit more over the south," says Dave Britton from the Met Office. "But it will be bringing more in the way of wet conditions to north west Scotland."
"Admittedly the summer weather hasn't been enjoyed by many but for anglers it's been excellent," says Daniel Robinson.
"There is no better time than now to try your hand at angling as the unpredictable conditions actually make successful fishing a lot easier, even for first-timers. With that in mind, Carp Baits Online are promoting the following ranges Marukyu, Nutrabaits, Rod Hutchinson baits and Mainline baits which are excellent for these weather conditions. Even with the jet stream changing position this month, its relocation so late on in the season will have little effect in reducing this current ease of carp bait fishing."
This article was written by website design Bolton and Zen Cart web design specialists Vizcom.