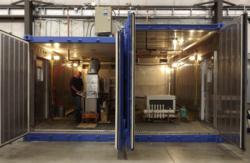 We have invested in these full-service HVAC/R test chambers to expedite product development and bring leading edge environmental control systems to market faster
Syracuse, NY (PRWEB) August 15, 2012
Air Innovations (AI), which designs and builds specialty environmental control systems for end users and original equipment manufacturers as well as its own branded products, recently expanded the psychrometric facility at its worldwide headquarters in North Syracuse, NY. The two-chamber laboratory tests the safety, reliability and performance of Air Innovations' products under both indoor and outdoor conditions, mimicking the simulated load conditions under which AI products will actually operate—many to very tight temperature and humidity tolerances. "We have invested in these full-service HVAC/R test chambers to expedite product development and bring leading edge environmental control systems to market faster," said company President and CEO Michael Wetzel, P.E.
The facility will be used for the products that AI designs and builds for aerospace, pharmaceutical, semiconductor and medical device companies around the world. AI also will test the components used in the company's air- and water-cooled packaged, through-the-wall and split systems and competitors' performance parameters. In addition, the lab will be available for contract testing, said Wetzel.
The 2880 cubic foot (77 cubic meter)-facility tests temperatures between 0°F and 120°F (-17°C and 48°C). Humidity is created by ionic bed electric steam generator rated at 45 pounds/hour (20.4 kg/hr), controlling to +/- 2.5% relative humidity. Cooling capacity is up to 33,000 btuh (9.67 kw) per room, while heating capacity varies from 14,000 btuh (4.34 kw) in the indoor room and 130,000 btuh (38 kw) in the outdoor room. Each room operates 2100 CFM (3567 cubic meters/hr) of continuously re-circulating air. Airflow measurements (up to 2000 CFM) and unit-under-test leaving air properties for dry bulb/wet bulb are collected via a code tester or standard airflow hood. Automated data acquisition and control reduces data collection time.
The facility can test 60 Hz products between 115 volts and 277 volts (1 phase) and 208 volts to 460 volts, 3 phase. Products at 50 Hz, 230 volts (3 phase) also can be tested. The facility meets all major national and international standards for safety and performance such as: Association of Home Appliance Manufacturers; American Society of Heating, Refrigeration and Air Conditioning Engineers; Air Conditioning, Heating and Refrigeration Institute; CE Mark; and, Underwriters' Laboratories. In addition to its expanded psychrometric facility, Air Innovations operates a production chamber for final test of products prior to shipping.
Click here to see more details and photos of the psychrometric facility.
Air Innovations, established in 1986, is a leader in specialty air conditioning, refrigeration and environmental control solutions for end users and original equipment manufacturers around the world. AI's capabilities range from concept development to prototyping to mass production. The company's systems are standard solutions or custom designs that feature close tolerance control of temperature (to +/-0.01°C), humidity control (to +/-0.5% stability), filtration and pressurization, and can be configured into a variety of packaged spaces.
Examples of AI's customized applications include solutions for: handling sensitive military equipment on rocket launch pads; controlling humidity for a drug company's tablet coating machines; managing thermal and moisture levels in a blood analyzer; maintaining cleanrooms environments in specialty contact lens manufacturing; and, controlling extremely precise temperature and humidity levels for nanomachining requirements. The company also manufactures its own brands of environmental control products that are used by: fine wine collectors (Wine Guardian®); supermarket florists (Floratech®); hospitals (IsolationAir®); and, homeowners for room air purification (HEPAiRx®).
All AI products are made at its 40,000 square-foot headquarters in North Syracuse, NY, which is located near an international airport and interstate highways. The company has been the recipient of several awards, including Engineer of the Year (HPAC Engineering magazine 2011) and Business of the Year (CenterState Corporation for Economic Opportunity, finalist, 2012), and is one of the fastest growing, privately held manufacturers in America (Inc. magazine 2010, 2011).
For more information, visit http://www.airinnovations.com, email info(at)airinnovations(dot)com or call toll free 800-825-3268 (direct, 315-452-7400).
.