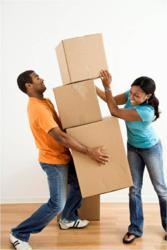 Renters insurance offers many of the same protections as homeowners insurance, but often at a fraction of the cost.
Lincoln, RI (PRWEB) August 10, 2012
Moving into a new apartment is exciting – whether heading off to college or moving across country for a new job. Amica Insurance reminds new tenants to add one more item to their to-do lists: purchase renters insurance to protect themselves and their belongings.
"Renters may not think they need insurance because the landlord insures the building where they live," said Ben Mellino, an assistant vice president with Amica Insurance. "But a landlord's policy generally won't cover a tenant's belongings in the event of theft, fire or some other loss."
Renters insurance also provides liability coverage, which can help pay medical and legal expenses if someone is injured in the apartment, Mellino said. It also can include "loss of use" coverage, which pays for hotel and other living expenses if the apartment is uninhabitable as a result of fire or other loss. Some policies even cover credit card loss and coverage for possessions that are stolen or damaged while the policy owner is traveling.
"Renters insurance offers many of the same protections as homeowners insurance, but often at a fraction of the cost," Mellino said. "Renter insurance is often less than $20 per month, which is far less than it would cost to replace almost any single item of value in your apartment."
Renters insurance is available to anyone who rents – whether it's an apartment or entire house, Mellino said. Full-time students may already have coverage for at least some of their belongings under their parents' homeowners policy, so check with your insurance company. It's also wise to create an inventory of your belongings to make sure you have enough coverage. Amica offers a home inventory tool on Amica.com and on its mobile website that's free and available for anyone to use.
"Given how much money we spend on our electronics, clothes and other belongings, it makes sense to get renters insurance," Mellino said. "It won't prevent something from happening, but it can help make the aftermath easier to deal with."
About Amica Mutual Insurance
Amica Mutual Insurance Company, the nation's oldest mutual insurer of automobiles, was founded in 1907. The company, with corporate headquarters in Lincoln, RI, is a national writer of automobile, homeowners, marine and personal umbrella liability insurance. Life coverage is available through Amica Life Insurance Company, a wholly owned subsidiary. Amica employs more than 3,100 people in 40 offices across the country.
CONTACT: Vince Burks, Corporate Communications, 50 Amica Way,
Lincoln, RI 02865-1155, 800-652-6422, ext. 24563
Twitter: Amica
Facebook: Amica Mutual Insurance Co.