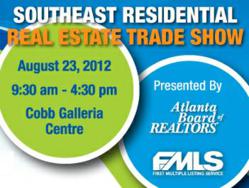 Atlanta, GA (PRWEB) August 12, 2012
On August 23, 2012, HomeSeal Atlanta, one of Georgia's premiere radon mitigation experts, will be exhibiting at the 12th annual Southeast Residential Real Estate Trade Show—locally known as SHOWCASE 2012. This event is used to present real estate professionals with business products and services in the surrounding area. It will feature seminars to help educate and prepare the professionals for the future. The trade show will be taking place at the Cobb Galleria Centre from 9:30 a.m. – 4:30 p.m. HomeSeal Atlanta's booth number is 118.
HomeSeal Atlanta helps homeowners achieve reduced radon levels in their homes. Radon is the second leading cause of lung cancer, causing about 20,000 deaths per year. It is undetectable using human senses, thus often going unnoticed. Long exposure to low levels of radon is often overlooked, but can be more detrimental than short exposure to high levels of radon.
Visit the HomeSeal Atlanta booth at the Annual Southeast Residential Real Estate Trade Show. Their employees are trained to the highest industry standards. Radon mitigation systems are designed specifically for each home to either seal off radon or redirect its pathway.
HomeSeal Atlanta offers services to homeowners in Atlanta, Marietta, Lawrenceville, Alpharetta, Norcross, Decatur, Gainesville, and nearby areas. Contact HomeSeal Atlanta today for a free estimate!