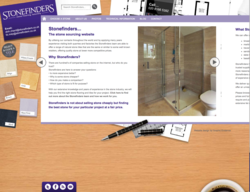 London (PRWEB UK) 13 August 2012
Stonefinders commissioned Graphic Evidence to first produce a brand and a then website for the newly formed business. The creative work needed to be produced in a tight time-frame and Graphic Evidence quickly delivered a brand that suited their style and gave them a look that they love.
Following the creation of their new brand, as the appointed graphic designers, Graphic Evidence had to create an eye-catching and imaginative website that would convey not only the types of stone they offer, but also their knowledge and experience. Stonefinders are expert stone sourcers with a wealth of expertise and contacts allowing them to provide their clients with exactly the style, make and quality of stone required.
Graphic Evidence quickly and efficiently supplied a website that meet the Stonefinder creative and business brief. The new website features the Graphic Evidence Content Management System (GEMS), which allows Stonefinders to update their site themselves. It is also a unique and original horizontal scrolling website, a style of website that is becoming increasing popular. Please view their website at http://www.stonefinders.co.uk.
Stonefinder's Founder, Dick Chard was kind enough to say of Graphic Evidence: "Graphic Evidence gave us a creative website design which was above and beyond our initial expectations. They really listened to our needs but also gave us pertinent advice so that the final brief that evolved and the realised design were a true collaboration. The final website result is something we could have never achieved without Graphic Evidence and it looks so different from our competitors that it makes us really stand out from the crowd but also it is perfect for our design-savvy customers and the ipad generation.  We were on a tight deadline and budget and they delivered in both departments. We'll definitely be using Graphic Evidence for phrase two of our website as the business evolves. Over the years, I've been involved in commissioning four different website designs in previous businesses and this is the only end result that I was truly delighted with."
To find out more about Graphic Evidence's projects, including web design, please visit http://www.graphic-evidence.co.uk