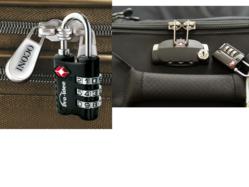 The security system was created in response to the attacks on September 11th 2011
Kent (PRWEB UK) 15 August 2012
The Transportation Security Administration (TSA) is an agency of the U.S. Department of Homeland Security. The security system was created in response to the attacks on September 11th 2001 to protect airport security and airline hijacking.
The TSA locking system was first developed by Travel Sentry Incorporation using only key and padlock combinations. Soon after, the first luggage with integrated TSA locks was developed by Samsonite manufacturers. The TSA locking system is designed for airport security agencies to use a master key to open and re-lock your case. This system is useful in protecting your luggage from being damaged through possibly forced entry into baggage and hence even allows access to luggage without the passenger being there. It was first designed for only traveling to the USA. However, as well as the USA it is now used in the United Kingdom by HMRC and is also reportedly in use by the New Zealand Customs Service, Dutch Tax and Customs Administration as well as at Tokyo's Narita and Haneda Airports. If TSA approved luggage locks are opened with a master key, a small red dot shows on the lock so travelers will know the lock has been opened.
Luggage Superstore provides many TSA approved luggage including ones manufactured by Samsonite, Delsey, Carlton, Delsey, Epic, Rock, Suitsuit, Heys and Antler. Owners of TSA approved luggage will have to set their personal combination on the combination lock but will not have a key for the TSA lock.
Luggage Superstore established site is in West Kingsdown, Kent. Their aim is providing competitive prices of the highest quality luggage and top calibre Customer Service for online luggage shopping.
Trina Chee-a-kwai
Luggage Superstore
01474 854666
Email information