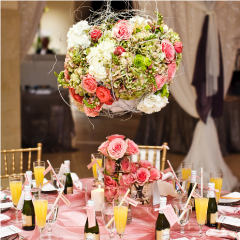 "The Bridal Extravaganza of Atlanta is about showcasing the newest wedding trends, table and theme designs, fresh and creative ideas for every budget in a fun, exciting and memorable way," said Donna Jakulski, co-producer
Atlanta, GA (PRWEB) August 12, 2012
With the popularity of the social site Pinterest, one can easily search items and get wedding planning ideas within a matter of seconds. In one afternoon, brides can see their boards come to life at The Bridal Extravaganza of Atlanta.
Brides can see the latest trends, colors & designs featuring ideas, products and services designed for the bride to experience every detail of her wedding. Brides are encouraged to take lots of photos at The Bridal Extravaganza to pin to their Pinterest wedding boards and share with members of their wedding party.
Blushing brides are seeing just how helpful Pinterest is for putting together, and showcasing, a wide variety of eye-catching ideas in preparation for their big day and at The Bridal Extravaganza of Atlanta they can meet the wedding professionals who can make their Pinterest boards a reality. Everything a bride will need from Yes to I Do!
" The Bridal Extravaganza of Atlanta is about showcasing the newest wedding trends, table and theme designs, fresh and creative ideas for every budget in a fun, exciting and memorable way," said Donna Jakulski, co-producer of The Bridal Extravaganza of Atlanta. "The internet gives everyone instant access to resources and images, but it doesn't give you the personal and emotional benefit you get from meeting the most recognized designers in the industry, as well as the chance to compare the work of Atlanta's best wedding professionals and vendors."
"The Bridal Extravaganza is dedicated to making connections with brides to assist in their wedding planning before, during and after the show," added Linda Surles, co-producer of The Bridal Extravaganza of Atlanta, "We're actively engaging with brides through our social media to be their guide to find the best deals, have the best chances to win incredible promotional giveaways and to introduce them to and provide more information about participating wedding professionals."
Brides will have the opportunity to meet Atlanta's team of expert wedding planners and event designers, see exquisite bridal gowns and formalwear, plus experience the special touches that spark creativity with linens, wedding cakes, catering, invitations, floral design, photography and more.
The "icing on the cake" will be the spectacular bridal fashion show showcasing Atlanta's best in bridal gowns, bridesmaids, and men's formalwear including the latest beauty trends in hair, make-up & accessories. Brides will see new trends in wedding dress designs and have the opportunity to meet wedding dress designers, Barbara Kavchok from Eugenia Couture and also local Atlanta designer, Erica Angeline.
The Bridal Extravaganza of Atlanta always means fabulous prizes, from cash for their wedding to exquisite wedding gown giveaways. The first 200 brides can visit the Lucky in Love Lounge sponsored by Lethal Rhythms Entertainment and roll the dice for a chance to win $20,000 for their wedding! They can win the bridal gown of their dreams from the designer gown gallery featuring bridal gowns from Wedding Angels Bridal Boutique, Brides by Demetrios and Anya Bridal.
The Cutest Couple Contest
Are you Atlanta's cutest couple? Just post an adorable photo of you and your fiancé on our facebook page and then have all of your friends and family vote for you. Not only will you be crowned Atlanta's Cutest Couple, but you will also win 5 gorgeous bridesmaids dresses from Anya Bridal.
From Atlanta's best wedding venues, dream destination planners, most creative caterers, fabulous floral and event designers, amazing photographers, wonderful wedding cake creators, entertainment specialists and all of the best wedding professionals and resources, the emphasis is always on quality, professionalism and creativity.
Tickets for The Bridal Extravaganza of Atlanta are available in advance online at http://www.beabride.net at a reduced rate of $10 for general admission and $15/cash day of show. Tickets are $25 for VIP admission. The Bridal Extravaganza will be held at the Atlanta Convention Center at AmericasMart, located at 230 Spring St, Atlanta GA 30303. Directions for parking and location can be found at http://www.beabride.net.
The show is sponsored by Lethal Rhythms Entertainment, Sheer Drapes by Geri Sims, Chair Cover & Linens, Eventscapes, a division of CCP Events, Inc. The Moore Agency and Nancy Jo McDaniel Photography as well as media sponsors, The Knot, The Wedding Channel, Wedding Wire, Atlanta Weddings, Weddings Unveiled, Bride Beautiful Atlantabridal.com, Occasions Magazine, Oh! Brides, Soiree Southern Events, Points North Magazine and NACE - The Greater Atlanta Chapter of National Association of Catering Executives.
Brides can follow the show to receive updates on special promotions and discounts on twitter @beabrideatl or on facebook.com/beabrideatl, as well as, registering on the show web site http://www.beabride.net. Show hotline is 678-439-9334
The Bridal Extravaganza of Atlanta is produced by Engage A Bride, a PR and Marketing Firm for the wedding industry. With over 35 years of combined wedding marketing experience, Engage A Bride can turn "too busy baking the cake" into a marketing masterpiece.