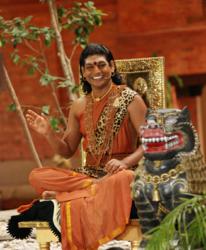 Let Transformation be your only priority.
Los Angeles, CA (PRWEB) August 10, 2012
The world has already heard all the doomsday predictions. But not many are aware that 2012 is actually the time when human beings are closest to actualizing their highest possibilities. From 2012 onwards, a fortunate confluence of massive physical and spiritual energies will be working to catapult humanity to the next plane of conscious evolution.
During the 2012 Awakening world tour this November, Paramahamsa Nithyananda will share the secrets of harnessing these powerful energies for material and spiritual abundance. Through a series of life-transforming talks and initiations that trigger a conscious shift in each individual, Paramahamsa Nithyananda empowers us to connect to the source of our highest potential energy. The benefits are experienced in the form of physical and emotional healing, greater abundance, higher creativity, more meaningful relationships, faster manifestation of desires, rapid clearing of negative patterns and quantum spiritual growth.
As part of his 2012 Awakening world tour, Paramahamsa Nithyananda will be conducting programs in several major cities across the globe, including Turkey, UK, France, Spain, Guadelope, Mexico, Germany, Canada, among others. With interactive sessions, mind-body healing techniques, powerful energy initiations and the 2012-intensive reading of Akashic Records, a day with Paramahamsa Nithyananda promises to open the door to a world of transformation for you.
More details on the 2012 Awakening world tour and the Transformational Program Details will be released in the next few days.
For earlier talks on the phenomenon of 2012 by Paramahamsa Nithyananda on videos:
2012 Transform Now: http://www.youtube.com/watch?v=YdH8UvFvDQ0&feature=plcp
2012: Truth, not Just Prophecy by Nithyananda: http://www.youtube.com/watch?v=5O68SCfXgBo&feature=plcp
Science of Enlightenment: http://www.youtube.com/watch?v=ty1DtDKt-08&feature=plcp
Retrieving Akaschic Records: http://www.youtube.com/watch?v=zZFlPwoUULE&feature=plcp
Genetics of Initiation: http://www.youtube.com/watch?v=gz5lMJfnX-E&feature=plcp
ABOUT HIS HOLINESS PARAMAHAMSA NITHYANANDA:
His Holiness Paramahamsa Nithyananda is a world leader in yoga, spiritual healing, kundalini awakening and enlightenment sciences. As head of the world's oldest Hindu organization*, Paramahamsa Nithyananda is revered as a powerful incarnation of super consciousness by millions worldwide. Earlier this year, Paramahamsa Nithyananda was named among the world's 100 most spiritually influential personalities of 2012 by reputed esoteric magazine 'Mind Body Spirit' from Watkins (London).
Clear, dynamic and modern in approach, Nithyananda's teachings have already transformed 15 million followers in 150 countries with the fastest growing spiritual community around a living incarnation. With over 2000 hours of free talks available on http://www.youtube.com/lifeblissfoundation, Paramahamsa Nithyananda is the most watched spiritual teacher on the internet, crossing 14 million views. He is also the author of more than 300 books published in 27 languages.