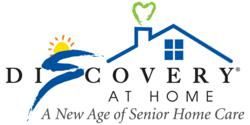 We focus on helping people live independently at home for as long as they can.
Bonita Springs, FL (PRWEB) August 14, 2012
Discovery at Home® has received Medicare certification, and is now accepting applications from seniors throughout Southwest Florida who want Medicare-paid, in-home skilled care and nursing aide assistance. Discovery at Home is designed to help people recuperate and get back to as normal as possible after surgery, critical illness and certain other health issues.
Covered home health services in Florida are available to those who meet certain Medicare patient criteria. Services include:

Occupational, physical, respiratory and speech therapies
Skilled nursing
Specialized care including cardiology, endocrinology, gastroenterology and wound care
Discovery at Home's health services team can be the primary and exclusive provider of services, or they can work along with family members as caregivers. Home health by Discovery at Home also includes Personal Care Aide Services and Companion Services.
"Discovery at Home is also appropriate for people who have a new diagnosis of illness or disease, require post-hospitalization monitoring, and for stroke victims who require assistance," said Therese Kirlew-Holston, the company's vice president of operations. "We focus on helping people live independently at home for as long as they can."
Discovery at Home has earned the Community Health Accreditation Program designation for meeting or exceeding the industry's highest nationally recognized standards. CHAP's rigorous evaluation focuses on structure and function, quality of services, human and financial resources, and long-term viability.
Contact Discovery at Home to find out if you meet Medicare's requirements and to learn more about all the services offered. Call toll free 1-855-805-2273. Discovery at Home's office is located at: 3301 Bonita Beach Road, Suite 211, Bonita Springs, FL 34134. License #HHA299993844, Medicare Certification #CCN:10-9783.
About Discovery at Home and Discovery Management Group
Discovery at Home is part of the Bonita Springs-based Discovery Management Group family of companies. For more than 20 years Discovery Management Group has built, developed and operated upscale, luxury senior living communities under the Aston Gardens brand name. The award-winning company has a flourishing portfolio of 3,000 homes for seniors, and has become a recognized industry leader in the development, marketing and management of world-class resort-style communities. Discovery Management Group is the exclusive manager, operator and equity partner of all six Aston Gardens senior-living communities in Florida.