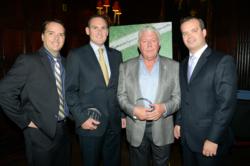 New York, NY (PRWEB) August 10, 2012
ESPN, FOX Sports, NBC Sports, NFL Network and MLB Network were among the winners of the first annual Cynopsis Sports Media Awards held August 9 in New York City. The awards honored the most outstanding work in the sports media industry over the past year with categories that span television, digital, marketing and more.
Cynopsis Sports also honored three executives who changed the way their sports entities connected with fans around the country. David Hill, Senior Executive Vice President of News Corporation and FOX Sports Media Group, received the Legacy Award for his outstanding management of the FOX Sports platforms and brands; Golf Channel President Mike McCarley received the Award of Distinction as Sports Network Executive of the Year; and Pac-12 Commissioner Larry Scott was the first winner of the Vision Award, which honors successful strategy from an executive at a sports league.
A who's who of Sports TV packed a sold-out ballroom at The Harvard Club in New York City to salute Sports TV programming excellence. To view the complete list of winners and honorable mentions, visit http://www.cynopsis.com/events/sports-awards/.
To view photos from the awards breakfast, go here: http://ow.ly/cSDVr.
Read the Cynopsis Sports special eReport here: http://ow.ly/cSKSX.
Cynopsis Sports is a brand of the Cynopsis Media Group, a division of Access Intelligence LLC. The Cynopsis Media family of products also includes Cynopsis, Cynopsis: Digital, and Cynopsis: Sports daily e-publications, weekly Cynopsis: Classified Advantage e-publication, Special Editions and more.
###