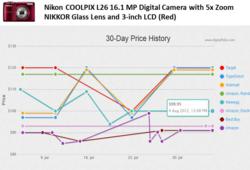 With Digital Folio you save time, money, and get far more accurate results.
Denver, CO (PRWEB) August 13, 2012
Digital Folio announced today that it has launched a revolutionary comparison shopping site powered by crowdsourcing to give shoppers real-time pricing and availability data on products at major online retailers.
"Traditional comparison shopping sites are advertising portals that only list products retailers are willing to pay to have shown to shoppers," says Patrick Carter, Digital Folio founder and CEO. "They offer a very incomplete picture of whether a top retailer sells a product, plus the pricing and product data they provide is sourced from advertising feeds that are often stale and error-prone.
"Travel doesn't work this way—why should retail? Travel sites don't show prices of unheard-of airlines at the expense of listing the major airlines and don't list incorrect fares. Consumers shop more often than they fly. They shouldn't have to make shopping decisions for their families based on incorrect advertising data."
Carter asserts the focus of retail comparison shopping should be on quality, not quantity. "Consumers are tired of going to comparison shopping sites and seeing so many 'supposed' pricing options from unheard-of retailers who pay to have their products listed. Yet shoppers know that more major retailers than those shown on such sites carry the items they want, and are forced to click through or visit multiple retailer sites to check current prices."
As part of Digital Folio's mission, its website and family of shopping applications are designed to provide unbiased, accurate product pricing and availability information from top retailers including Amazon, Best Buy, Buy.com, Sears, Target, and Walmart.
"Our price comparison data is updated in real time so you can say goodbye to stale pricing and availability listings," Carter says. "With retailers' dynamic pricing, we've seen online prices change up to seven times in four hours—it's impossible for shoppers to keep up. But Digital Folio does because it's powered by the crowd.
"With over 48 million people shopping on the web every day, only the crowd can be everywhere at once. Our shopping applications are used by thousands of shoppers and automatically detect instant pricing and availability changes—including price drops so often hidden behind retailer 'add-to-cart' buttons. All these changes are shared automatically, via the cloud, with our website and with anyone using our Digital Folio applications to pin and track products and receive real-time alerts. With Digital Folio you save time, money, and get far more accurate results."
To illustrate the widespread inaccuracies of leading shopping portals, Carter recently created a video of his experience shopping for a camera. Shopping Data is Broken – 10 days in the life of one camera's price revealed not only that Google Shopping, Nextag, PriceGrabber, and other major comparison shopping sites consistently listed incorrect prices for major retailers on the camera, but that Digital Folio got those prices right time and time again.
"The video also captured how Amazon changes prices on some products multiple times within a day, and how retailers react to each other's pricing strategies all the time, something that's also revealed in our Price History Graphs," Carter says.
"We believe all shoppers deserve access to this information so they can make the best purchasing decisions possible on the items they want to buy."
Compared to leading shopping portals, the new Digital Folio website provides:
—Accurate prices updated on a regular basis throughout each day
—Accurate product availability
—Revealing price history graphs
—Streamlined content without listings from unknown retailers
—No advertising and other noise
—One-stop search capabilities
"Simply put," says Carter, "DigitalFolio gives shoppers something they've never seen before—complete, real-time data for top retailers."
DigitalFolio.com represents the newest addition to the Digital Folio suite of shopping tools that includes the powerful Digital Folio sidebar and upcoming Windows 8 app. Thousands of shoppers use Digital Folio apps to compare product prices instantly across major retailers, save their finds in intelligent shopping lists, share their finds with friends and family, and get instant product pricing and availability updates…all in one place.
ABOUT DIGITAL FOLIO
Established in 2011, Digital Folio is the first multi-channel shopping network, powered by the crowd, to provide unbiased real-time pricing and availability across top retailers. We make it easy for shoppers to get a complete, real-time shopping picture as they browse, collect, and share their shopping finds. For more information and to download the FREE Digital Folio shopping app, visit http://www.digitalfolio.com.