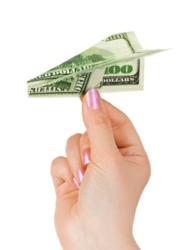 "BE Aerospace has been an excellent growth story over the past decade and a good mid-cap aviation play in the equities market," says Leong. "The company makes the interior cabin products for both the new and retrofit markets."
New York, NY (PRWEB) August 14, 2012
In a recent Investment Contrarians article, editor George Leong argues that strong wealth generation in the world's largest emerging markets, including China and India, will help to drive the demand for commercial planes. In light of this, Leong states there is growing excitement in aerospace stocks in the equities market, especially with the airplane builders and suppliers of parts and services.
"BE Aerospace has been an excellent growth story over the past decade and a good mid-cap aviation play in the equities market," says Leong. "The company makes the interior cabin products for both the new and retrofit markets."
Leong also believes that Spirit AeroSystems is developing into a key mid-size player in the aerospace equities market, including commercial, business, and regional jets and military/helicopter aircrafts. The company operates via three major commercial aviation segments: Fuselage Systems, Propulsion Systems, and Wing Systems, he notes. According to Leong, the company finished the third quarter with an order backlog of about $30.0 billion. He also reports that the stock trades at an attractive 8.92X 2013 earnings per share (EPS) and a cheap price/earnings to growth (PEG) ratio of 0.96.
In the micro-cap aerospace area, take a look at CPI Aerostructures. The company manufactures structural aircraft parts mainly for the U.S. Air Force along with other areas of the U.S. defense sector, Leong explains. For the U.S. military, the company is a prime contractor of skin panels, leading edges, flight control surfaces, engine components, wing tips, cowl doors, nacelle assemblies, and inlet assemblies geared for various military planes, he reports. The company also supplies parts for the "UH-60 Blackhawk" helicopter, he adds. Leong believes CPI is an opportunity for speculators in the equities market.
According to Leong, aerospace stocks offer an exciting investment opportunity in the equities market right now.
To see the full article and to get a real contrarian perspective on investing and the economy, visit Investment Contrarians at http://www.investmentcontrarians.com.
Investment Contrarians is a daily financial e-letter dedicated to helping investors make money by going against the "herd mentality."
The editors of Investment Contrarians believe the stock market and the economy have been propped up since 2009 by artificially low interest rates, never-ending government borrowing and an unprecedented expansion of our money supply. The "official" unemployment numbers do not reflect people who have given up looking for work and are thus skewed. They believe the "official" inflation numbers are also not reflective of today's reality of rising prices.
After a 25- to 30-year down cycle in interest rates, the Investment Contrarians editors expect rapid inflation caused by huge government debt and money printing will eventually start us on a new cycle of rising interest rates.
Investment Contrarians provides unbiased research. They are independent analysts who love to research and comment on the economy and investing. The e-newsletter's parent company, Lombardi Publishing Corporation, has been in business since 1986. Combined, their economists and analysts have over 100 years of investment experience.
Find out where Investment Contrarians editors see the risks and opportunities for investors in 2012 at http://www.investmentcontrarians.com.
George Leong, B. Comm., one of the lead editorial contributors at Investment Contrarians, has just released, "A Problem 23 Times Bigger Than Greece," a breakthrough video where George details the risk of an economy set to implode that is 23 times bigger than Greece's economy! To see the video, visit http://www.investmentcontrarians.com/press.