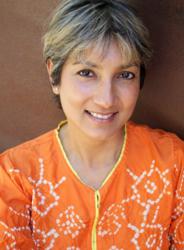 Self-expression is a right, and I wanted to exercise that right in a way that reflected my classical musical training and my religious beliefs
Los Angeles, CA (PRWEB) August 12, 2012
Progressive Muslim leader and acclaimed singer song writer, Ani Zonneveld is releasing five new songs— hymns for the holidays. Zonneveld says the Muslim world has turned true Islamic core beliefs of love and light upside down into extreme prejudices and chauvinism. As the first English language female Islamic pop singer, she continues to redefine what it means to be Muslim in America. "Music is a long needed clarion call to those who identify with western musical styles yet also have an affinity for traditional Islamic roots," says Zonneveld.
In the current Western Islamic music scene, only male singers are permitted despite centuries of female singers in the Muslim world. Zonneveld doesn't accept this; she feels it's time to bring Islam out of its dark phase while keeping the tenets of the religion. She believes in a woman's right to lead prayer, LGBT rights, and freedom of expression.
Unlike Jewish and Christian traditions, hymns are not sung as part of a religious service in Islam. On August 14, Zonneveld is changing this paradigm. She is releasing a CD titled "Islamic Hymns: Celebration of Life" with five Islamic English hymns based on the Quran, Prophet Muhammad's favorite prayer, and poetry of Rumi and Rabi'a al-Bashir. These songs are intended to usher in a new set of American-Muslim religious traditions.
"Islamic Hymns: Celebration of Life" album is produced on a private label, Emily's Basement/2bz Productions.
Zonneveld has worked with recording artists in the United States and abroad, working with musicians such as Keb' Mo' and Melissa Manchester. Zonneveld is co-founder and president of national grass-roots organization, Muslims for Progressive Values (MPV). In conjunction with MPV, she is co-chief editor of Progressive Muslim Identities-Personal Stories from the U.S. and Canada.
__________________________________________________
Contact information: 323-842-2869, info(at)a-n-i(dot)net.
Website: http://www.a-n-i.net