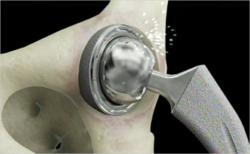 (PRWEB) August 15, 2012
The defective medical device lawyers at d'Oliveira & Associates currently are seeking clients who have been injured by complications from the DePuy hip replacements. d'Oliveira is offering a "no win, no fee guarantee" to these individuals and their families; meaning that you don't pay, unless a settlement is successfully negotiated, or the case is won at trial.
Medical device manufacturer DePuy has produced, among other products, two hip replacements that have been implicated in a series of injuries based on the metal-on-metal construction of the implants. And are under Investigation of the FDA The implants have been known to break down and begin to distribute particles of metal throughout the body that can cause inflammation. In some cases, this has been known to require revision surgery to remove the implant.
Source:http://www.nytimes.com/2012/02/22/business/flawed-depuy-hip-implant-had-early-fda-notice.html?pagewanted=all
There is currently a panel for multidistrict litigation (MDL) in the US that has randomly selected several cases to be tested in different states. These "bellwether trials" will allow for the cases to be tested. In seeking to provide the best service to potential clients, d'Oliveira & Associates is offering its "no win, no fee guarantee" to those injured by DePuy hip replacements.
Attribution: http://www.bloomberg.com/news/2012-05-01/j-j-hip-patients-will-take-bellwether-cases-to-trial-1-.html
About d'Oliveira & Associates Dangerous Medical Device Attorneys: d'Oliveira & Associates is a law firm that works with some of the leading attorneys in the United States for dangerous drug, defective medical product and medical malpractice cases. The firm also focuses on personal injury cases, including auto accidents, slip and falls, dog bites as well as social security disability cases.
For a free legal consultation, call 1-800-992-6878 or visit their website at Depuy Hip Lawyers