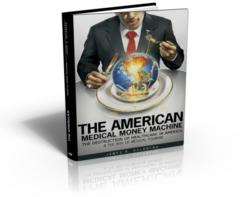 The cost containment of healthcare is a covert way of saying, 'charge patients more and pay doctors less!
New York, New York (PRWEB) August 14, 2012
In a press release on July 31, 2012, author and investigative journalist James R. Goldberg, reminds the public that, "The cost containment of healthcare is a covert way of saying, 'charge patients more and pay doctors less!'"
Robert Marshall, Goldberg's publisher, notes that doctors are leaving medicine in droves and those considering a career in medicine are being deterred by massive cutbacks in payments to physicians. According to the Washington Monthly, 21 March 2012, older physicians were more likely to think about retiring: especially those with high Medicare or Medicaid patients. Doctors in solo or two-doctor practices were even more likely to retire than those who have joined large practices or who have become hospital employed. "Who will make a lifetime investment to join a profession which is being beaten to death through ever falling reimbursements?" he asks.
"Insurance companies are certainly not crying the blues. But last year alone, doctors suffered a 26 percent cutback in insurance reimbursements. And this is only the beginning," Goldberg responds. "Indeed, without respect to partisanship, everyone will eventually become a patient. In a real way, the lame attempt to makeover what was once the greatest medical system in the world could turn into a moot debate if there are fewer doctors—and—if the quality of those who do practice continues to fall."
Goldberg went on to warn, "Many people believe doctors are a privileged class who are raking in money. The fact is they are suffering gigantic losses. Small practices are all but extinct; insurance-dominated medicine has placed a stranglehold on doctors and is illegally practicing medicine by making medical decisions which should be only between doctor and patient."
Goldberg further expressed his amazement saying, "Drugs prescribed by doctors are constantly being rejected by insurance companies. Valid tests and recommended surgeries are being turned down by the insurance cartel that dictates how medicine is practiced in America. Many hospital corporations, such as Hospital Corporation of America (HCA), as reported in the Associated Press on 8/7/12, have recently been investigated for performing unnecessary and often dangerous procedures to generate additional profits. Patients, along with their doctors, are being charged higher premiums, increased co-payments and insurmountable deductibles. Doctors are being squeezed to the point where they cannot financially survive without joining administrative dominated hospital networks. The hospital conglomerates exact heavy work tolls on doctors—many of whom now have patient visits totaling four minutes on average."
Doctors, practitioners and nurses are being worked to exhaustion. As the baby boomer population peaks, less and less resources will be available and timely access to physicians, except for the elite, will be measured in terms of months. "If you thought you had a serious problem, could you wait that long to be given an appointment?!" Goldberg exclaims.
The author believes that the real debate should not be about revising the healthcare system but rather saving it from total collapse. "The American Medical Association (AMA), to which, according to the Bureau of Labor Statistics in 2008, reports only 34% of the 348,000 doctors in the country are members of the AMA. Goldberg feels that the AMA, "has abandoned the interests of representing doctors who have taken and continue to take a major hit from falling reimbursement and lack of effective lobby and representation at the highest levels of the Federal Government."
Goldberg added, "The insurance industry pretends to be interested in reducing Medicare fraud. Case record shows they have been fined billions in thousands of cases of fraud against patients yet none have gone to jail. It's quite the opposite. By looking the other way, Department of Health and Human Services senior officials are rewarded with gigantic compensation packages after leaving office."
"This is a nasty, terrible joke. Like the banks, there is hemming and hawing. But the bottom line is that government overseers can—and do—operate with impunity. This is moral death for an unwitting society which has been sold to the highest bidder. It makes me cry to think of how the corporate and government criminals have strangled the public into submission," Goldberg said.
Baby boomers are moving into an age where they will require more medical care and all signs are pointing to the fact that less care will be available when they need it. With doctors progressively receiving less reimbursement for medical care and patients paying more and more, the handwriting is on the wall. Thousands of doctors are leaving medicine, and those once considering entering medicine don't want to incur the enormous debt of a medical education if they can't recoup their investment.
According to Kaiseredu.org, the size of healthcare in 2010 was $2.6 trillion. Goldberg notes that in 2007, the Department of Justice (DOJ) estimated that $750 billion had been stolen in Medicare fraud alone. The DOJ recovered $1.2 billion, a significant portion from the medical insurance industry, at a cost of $250 million for their internal expenses. It should be clear to the public that it is the insurance companies who dispense Federal medical benefits and many firms bonus their employees not to pay out benefits.
Goldberg has written to Senate Finance Committee leaders Max Baucus (D-MT) and Charles Grassley (R-IA), who have jurisdiction over healthcare, to reconsider the course of destruction on which we are now engaged. He is pleading with them to reassess the implications of financially strangling doctors and placing an ever increasing burden on patients.
Marshall reiterates that Goldberg is concerned that what is not detailed or provided for in Obamacare, stating, "If the people behind the Insurance Exchanges can to do as they please, with virtually no controls, we've opened the door to a havoc from which we may never recover. Goldberg believes it is simple to see how continuing cutbacks for doctors coupled with heavy financial burdens on patients can only lead to new and vast fortunes for the insurance companies."
Goldberg's explosive book on the corruption of our health care system and his cautionary tale about the evils of Medical Tourism, "The American Medical Money Machine: The Destruction of Healthcare in America and The Rise of Medical Tourism," is available on Amazon in paperback or Kindle, as well as through bookstores everywhere.
###