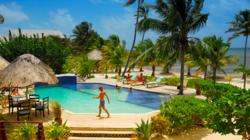 For couples looking for a unique and very festive way to enjoy their honeymoon in a romantic, exotic setting, The Lodge at Chaa Creek is suggesting Belize's Celebration Season as an alternative to some of the more commonplace holiday venues.
(PRWEB) August 15, 2012
The Lodge at Chaa Creek has just announced that it is offering attractive discounts that make a honeymoon during Belize's September Celebrations an even sweeter alternative to some of the more commonplace romantic holiday options.
Bryony Fleming, Chaa Creek's Food and Beverage manager, said that couples looking to add some colour, excitement and romance with a true Caribbean fiesta atmosphere would be excited to hear of Chaa Creek's special 10% discount on their all-inclusive Belize Honeymoon Packages during the country's upcoming holiday season.
"During and after September, couples can experience all the beauty and romance of a Belizean honeymoon, but with the extra spice of the festive atmosphere of our nationwide celebrations. Belize really comes alive during the September celebrations, and this makes for a very special honeymoon and memories people will cherish forever," Ms Fleming said.
"And with a ten per cent discount off of the entire package and everything it contains, it's a very affordable alternative to the more commonplace options," she added.
September is a big month in Belize as locals celebrate St George's Caye Day on September 10 and Belize Independence Day on the 21st. Belize achieved independence from Great Britain in 1981, an event which is still fresh in people's minds and celebrated enthusiastically.
September 1981 was also the date that Chaa Creek made the change from small family farm to become Belize's first eco-resort and a model for eco-tourism and sustainable development in Belize.
Chaa Creek has since evolved into Belize's most internationally recognised eco-resort, surrounded by a 365 acre private rainforest reserve with signature thatch roof accommodation including Tree Top and luxury Jacuzzi suites, a Natural History Centre, Butterfly Farm, Hilltop Spa, Maya Organic Farm and Maya Medicinal Plant Trail, infinity pool and a range of activities and amenities including a highly regarded restaurant and jungle lounge.
Ms Fleming said that Chaa Creek's all-inclusive honeymoon packages have proven to be popular with couples from around the world.
"We pioneered romance adventure in Belize, it's something we're proud of and we still go out of our way to give couples experiences they'll cherish forever. Imagine a day spent exploring ancient Maya temples, horseback, mountain bike riding or walking along beautiful jungle trails or canoeing the lovely Macal River and then coming back for a swim, a massage in the Spa or just retreating to your room for a while before enjoying a candlelight dinner on your own veranda and a soak in your private Jacuzzi with a bottle of champagne. It really is the stuff of dreams.
"And during the Belize celebration season the entire country comes alive with music, dancing, feasting and a general festive atmosphere. And with our Rainforest to Reef packages, couples can enjoy everything Chaa Creek has to offer as well as a stay at one of our sister resorts on the Caribbean coast, Belize Great Barrier Reef or Ambergris Caye," Ms Fleming said.
Ms Fleming said the resort's size, experience and network of colleagues allows Chaa Creek to offer Caribbean vacation deals no one else can match.
"All-inclusive means all-inclusive – from transfers, meals, even taxes and gratuities, everything is included – even a bottle of champagne, so there's really nothing else to pay. When you consider how much we offer it adds up to a pretty spectacular deal," Ms Fleming said.
"Then if you subtract 10% from all of those meals, activities, and all the other elements of Chaa Creek's romantic rainforest luxury, it adds up to an affordable tropical honeymoon that I doubt anyone could put together for that price.
"And if you come down during the September Celebrations you get to enjoy a colourful, festive atmosphere that adds that extra bit of spice, making your honeymoon a truly romantic adventure of a lifetime," she said.