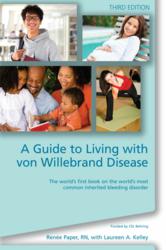 "Renée Paper dedicated her life to educating people about VWD," says co-author Laurie Kelley. "We were saddened to lose this incredible advocate in 2007, but I think she would be proud to know her book is in its third edition."
Georgetown, MA (PRWEB) August 14, 2012
A Guide to Living with von Willebrand Disease is the world's first book on VWD, the most commonly inherited bleeding disorder. Topics include learning to cope with VWD, inheritance, the medical system, treatment, women's issues, and health insurance. The third edition includes important medical and scientific updates about VWD.
Written by Renée Paper, RN, person with VWD, and Laureen A. Kelley, mother of a child with hemophilia, this 175-page book offers parents, patients, and healthcare professionals a complete resource guide featuring real-life stories.
"Renée Paper dedicated her life to educating people about VWD," says co-author Laurie Kelley. "We were saddened to lose this incredible advocate in 2007, but I think she would be proud to know her book is in its third edition."
Funding for the development of the book was made possible through a grant provided by CSL Behring, a world leader in developing and manufacturing safe and effective solutions to treat and manage bleeding disorders.
Copies of A Guide to Living with von Willebrand Disease are free for patients with VWD. Order online from LA Kelley Communications at http://www.kelleycom.com/books.html or call 978-352-7657.
About LA Kelley Communications, Inc.
Since 1990, LA Kelley Communications has been a world leader of groundbreaking educational materials and programs on hemophilia and related bleeding disorders. With more than a dozen books, numerous publications, and the oldest hemophilia newsletter in America, LA Kelley Communications remains a trusted source of practical information about raising children with bleeding disorders. Laureen Kelley founded the company in response to the need for practical consumer and parenting information on bleeding disorders. For more information about LA Kelley Communications, Inc., please visit http://www.kelleycom.com or call 978-352-7657.
About CSL Behring
CSL Behring is a leader in the plasma protein therapeutics industry. Committed to saving lives and improving the quality of life for people with rare and serious diseases, the company manufactures and markets a range of plasma-derived and recombinant therapies worldwide. CSL Behring therapies are indicated for the treatment of coagulation disorders including hemophilia and von Willebrand disease, primary immune deficiencies, hereditary angioedema and inherited respiratory disease. The company's products are also used in cardiac surgery, organ transplantation, and burn treatment, and to prevent hemolytic diseases in newborns. CSL Behring operates one of the world's largest plasma collection networks, CSL Plasma. CSL Behring is a subsidiary of CSL Limited, a biopharmaceutical company headquartered in Melbourne, Australia. For more information, visit http://www.cslbehring.com.