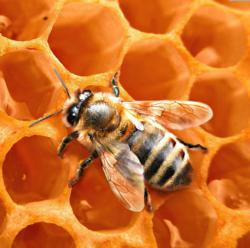 Learn about the art and science of beekeeping and the purely pleasurable benefits of honey.
Denver, Colo. (PRWEB) August 12, 2012
Rosh Hashana (the Jewish New Year) is approaching so staff at the Mizel Museum has collaborated with Ekar Farm and Hazon Colorado to provide a series of programs to celebrate and educate the community about the importance of bees, beekeeping and the pleasures of honey.
Adults are invited to Salon Night: Bees & Honey 101, Thursday, September 6, 5:30 to 7:30 p.m. at the Mizel Museum, 400 S. Kearney St., Denver, for presentations by Coloradoan and former Israeli beekeeper Norm Klapper about the art and science of beekeeping, and Hazon Colorado on the nutritional, environmental and purely pleasurable benefits of honey and the bees that make it. The evening will conclude with a honey tasting, courtesy of Ekar Farm.
Families can attend two special events on Sunday, September 9. From 10:00 a.m. to 2:30 p.m., Ekar Farm, 6825 E. Alameda Ave., Denver, will offer a beehive building workshop when families will be shown how to build a beehive for their own backyards or for Ekar to place in future gardens. Price is $36 for a take-home hive. Orders should be placed with aaron(at)ekarfarm(dot)org.
Then, from 3:30 to 5:00 p.m., the Mizel Museum will screen "The Bee Movie," a buzz-worthy comedy that will change everything you think you know about bees, starring Jerry Seinfeld. Honey-related snacks and refreshments will be served. Price is $6/person; children under 12 free.
On Thursday, September 20, 5:30 to 7:30 p.m., Ekar will present "L'Daber al D'vash: A Talk on Honey, with a panel of local rabbis entertaining and engaging the audience in a discussion about the role of honey and bees in the Jewish New Year tradition. Apples and honey will be served.
The Mizel Museum is a portal to the contemporary Jewish experience. Its exhibits, events and educational programs inspire people of all ages and backgrounds to celebrate diversity. Fine art, film, literature, drama, music, and technology offer interactive experiences that promote community, understanding and multiculturalism. The Museum is located at 400 S. Kearney Street, Denver, where visitors can tour the new permanent exhibit, 4,000 Year Road Trip: Gathering Sparks, a dynamic journey through art, artifacts and digital media that narrates and illuminates Jewish history and culture. For more information, visit http://www.mizelmuseum.org or call 303-394-9993.
About Ekar Farm
Ekar Farm and Community Gardens is a communal urban farm, inspired by Jewish values. It works to build community, provide experiential and environmental education, and grow sustainably produced fruits and vegetables, expanding access to those in need. In its first two seasons, Ekar Farm engages 3,000 community volunteers in growing 12,000 pounds of urban organic vegetables. Ekar donated 90 percent of these vegetables (a market value of $70,000) to the Jewish Family Service Weinberg Food Pantry, feeding 2,000 people a month during the harvest season.
About Norm Klapper
Norm Klapper's interest in bees began at age 16. After college graduation he worked at Kibbutz Yad Mordechai in Israel, a commercial apiary that produced over 30 tons of honey each year. Today he lives in Niwot, Colorado with two healthy hives from which he gathers Colorado wild flower honey each season.
About Hazon Colorado
Hazon works with local leaders and organizations to respond to their expressed needs and desires to build and strengthen Jewish food, outdoor, and environmental programs. Hazon is excited to work hand-in-hand with individuals and organizations interested in growing the Denver/Boulder Jewish Food Movement and in enhancing their Jewish environmental programs.
About Rosh Hashana
Rosh Hashanah (literally "head of the year") is the Jewish New Year. It is the first of the High Holy Days, which occur in the autumn. Rosh Hashana is celebrated on the first two days of the Jewish month of Tishrei. It is described in the Torah as a day of sounding the shofar, a symbol of the holiday. Customs include eating symbolic foods such as apples dipped in honey.