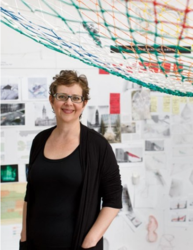 Boston, MA (PRWEB) August 14, 2012
Studio Echelman today announced that Janet Echelman has been selected as one of Architectural Digest's Innovators of 2012. Architectural Digest is the international authority on design and architecture. Published by Conde Nast, it provides exclusive access to the world's most beautiful homes, the fascinating people who live in them as well as a wealth of information on architecture and interior design, art and antiques, travel destinations and extraordinary products.
The publications committee reviewed a wide range of artists, architects, landscape architects, and designers of all kinds to select the eight innovators who are "challenging received wisdom and conjuring a bold new world." Echelman is most known for her permanent netted sculpture the scale of buildings that billow in the wind. The article describes Echelman's sculpture as "changing the very essence of urban spaces."
"It's truly an honor to be included on this list alongside architects and designer who I admire. I accept this recognition with appreciation to the talented team who help me create these monumental sky sculptures to transform urban environments. Creating public art is a team sport." said Echelman.
The eight Architectural Digest 2012 Innovators are:
Janet Echelman of Studio Echelman, Sculpture, Public Art, Urban Space Design
Alon Cohen and Adi Tatarko of Houzz, Design Website Founders
Adriaan Geuze of West 8, Urban Design and Landscape Architecture
Mathias Bengtsson, Contemporary Furniture Designer
Johnston Marklee , Architecture Studio
Mortitz Waldemeyer, Lighting Designer and Engineer
Ritsue Mishima, Glass Artist
Weiss/Manfredi, Architecture, Landscape, Urban Design firm
Studio Echelman reshapes urban space with soft sculptures made of netting that move with environmental forces. Commissions installed around the world include: the 164-ft-tall "She Changes" in Portugal, "Water Sky Garden" which premiered at the 2010 Vancouver Winter Olympics, and "Every Beating Second" at the San Francisco International Airport's new Terminal 2, home to Virgin America and American Airlines.
Echelman is a recent recipient of a Guggenheim Foundation Fellowship. Her sculpture "Pulse", which traces the paths of subway trains above ground using mist and colored light for Philadelphia City Hall's Dilworth Plaza, received the largest 2012 Knight Foundation Arts Challenge Philadelphia award issued this year. This year, Echelman was artist for the team, with fellow AD2012 Innovator Weiss/Manfredi, that won the Washington DC National Mall Competition to redesign the Sylvan Theatre site. Her 2011TED talk has been translated into 33 languages and is estimated to have been viewed by more than a million people.
Follow Studio Echelman: on Facebook: http://www.facebook.com/studioechelman
For additional information regarding Studio Echelman's sculpture, contact Melissa Henry, melissa(at)echelman(dot)com.
Studio Echelman explores the cutting edge of sculpture, public art, and urban transformation.
###