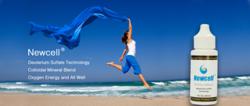 "These are all cutting edge products that were developed by specialists..."
Irvine, California (PRWEB) August 12, 2012
After a good bout in the Chinese market, NCE Global has decided to expand in the direction of the American market. NCE Global's previous website had been operating for approximately two years before NCE Global decided to venture upon a new, westernized avenue with nceshop.com. The preceding site, ce-bio.com, had done quite well in the two years prior. These previous years showcased the true nature of the products. These were natural supplements which the Chinese market had clamored over. "We had a thrilling achievement last year; more than 500,000 bottles of Newcell were launched into the market before the all quickly sold out" says Marketing Manager Pie Tan. This marked a turning point for NCE Global. The company's products were now in high demand.
These goods are not just all talk either. These products yield results. According to experts, this is due to elements acting as antioxidants in the body in order to aid in the elimination of free radicals. Items like Newcell also support a healthy circulatory system which eliminates toxins from the body. Also, in other supplements, like Newcell Amado, increased nitric oxide production improves circulation to the body's vital organs- including heart and brain. This, in essence, is good for the body all around. It is a lifestyle that this new website is promoting- a lifestyle that increases one's overall nutrition. "These are all cutting-edge products that were developed by specialists from a manufactory and several famous universities such as University of Pennsylvania. NCE Global devotes itself to providing customers with the most advanced and effective supplements available" Tan adds.
With many nutritional benefits, these unique health supplements are ready to be placed into the American marketplace. America ought to get ready because this new site offers products that fit the bill. NCE Global wants to make a name for itself. There are not many retailers out there that sell these kinds of natural health supplements and the market is wide open. Not to mention NCE Global's new American market site is a more user friendly site and that can provide assurance to prospective buyers. It is apparently understood that consumers want direct navigational tools and intuitive interfaces. This is what is offered to the public by NCE Global's new wesbite.
NCE Global was established in March 1997. All of the company's efforts are being put forth to improve the health and quality of life for all of the people using the products. This company develops each product using extensive knowledge from a team of internationally trained, industry proven experts. There are already more than thirty different kinds of unique formulas that these experts have developed. The company's global sales office is headquartered in a progressive facility located in Irvine, California. Branches are distributed in Hong Kong, Malaysia, and Indonesia. NCE Global's distribution center is located on 5.96 acres in Desoto County, Mississippi- just outside of Memphis, Tennessee. It features a fully-functional 50,000 square foot GMP standard production line. Although set in multiple places NCE's goal remains the same- to create a better livelihood for people. These health products- with raw resources supplied by USA domestic farms- showcase just that.
Check out NCE Global's new website: Nceshop.com.
NCE GLOBAL INC.
9970 Irvine Center Dr, Irvine,
CA 92618