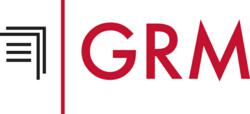 Jersey City, NJ (PRWEB) August 13, 2012
GRM, a leader in information management solutions, today announced the achievement of another innovative technology breakthrough—its successful launch of the Records and Information Management industry's first mobile site. Now, on the go GRM clients and prospective customers can easily access information about the company's capabilities and offerings from any smart phone or tablet. Through the mobile site, users are able to quickly navigate information about GRM's world-class products and services and how the company benefits a wide range of vertical markets such as Healthcare, Legal, Finance, Insurance, Human Resources and Accounting.
Featuring a sleek, modern design built around icon-based visual elements, the site provides an attractive, user-friendly experience that encourages users to browse and explore all that GRM offers. From the homepage, users navigate by clicking appropriate icons, each of which leads directly to focused information about a product, service, market or GRM facility. Access is immediate, eliminating the need to scroll or pull up numerous pages to reach desired content. For example, a Human Resources professional can find product and service benefits relevant to any HR Department with just two icon clicks.
Going forward, GRM's mobile site will deliver continuously updated news, alerts and announcements of interest to both existing clients and potential customers. It's a site worth checking often for managers and executives wishing to stay up to date on the latest developments in Records and Information Management. To access the new GRM mobile site from any smart phone or tablet, simply enter the website URL, http://www.grmdocumentmanagement.com this will immediately transfer users to the mobile site home page.
About GRM
GRM Document Management is a leading provider of lifecycle records and information management solutions. The company continues to demonstrate technological leadership by bringing proprietary innovation and new levels of cost efficiency to document storage, data protection, digital/electronic document management and certified destruction. Fully integrated products and services include: eAccess remote inventory control, the Cloud-based Online Record Center, business process workflow automation, a blended paper to digital solution, GRMpedia, a retention regulatory research tool and the Solutions Group, which provides customized, enterprise-wide Retention, Compliance and Governance expertise. GRM's full service capabilities are available in major markets throughout the U.S., including New York/New Jersey, Atlanta, Baltimore, Boston, Chicago, Houston, Los Angeles, Miami, Philadelphia, San Francisco, and Washington, D.C. GRM is also currently the largest document storage/records management company in China with a presence in 6 cities. For more information, visit the GRM web site at http://www.grmdocumentmanagement.com