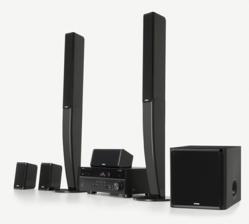 "Our YHT-697 is the sophisticated entertainment hub that marries exceptional audio and video quality with seamless connectivity and control features," said Tom Sumner, senior vice-president, Yamaha Corporation of America.
Buena Park, CA (PRWEB) August 13, 2012
Yamaha Corporation of America, AV Division, today introduced the YHT-697BL, the latest entry to its formidable line of home theater in a box (HTiB) systems. Offering a refined take on the category, this system features a powerful 5.1-channel receiver with AirPlay and a front panel USB port for direct connectivity to iPhones, iPads, iPods and USB drives. The speaker package consists of dramatically styled glossy black front tower speakers, compact surround and center speakers and a powerful 6 ½" 100W multi-range subwoofer.
The YHT-697BL features HDMI 4K and 3D video pass-through with Audio Return Channel (ARC) and Yamaha's proprietary CINEMA DSP 3D audio to ensure that the system will deliver superior home theater experiences for years to come.
"The ubiquity of portable devices, like music players, smart phones and tablets, makes it essential that Yamaha HTiB systems deliver a higher level of performance and flexibility than consumers expect in this category," said Tom Sumner, senior vice-president, Yamaha Corporation of America. "Our YHT-697 is the sophisticated entertainment hub that marries exceptional audio and video quality with seamless connectivity and control features."
The YHT-697BL system features a network receiver with AirPlay that enables music to be streamed wirelessly from the latest versions of iTunes stored on Macs, PCs and compatible Apple iPad/iPhone/iPod touch devices. This system also delivers music content from Internet radio and DLNA-certified devices.
The free top rated Yamaha AV Controller App, available for iOS (iPad/iPhone), Android and Kindle Fire devices, offers control over the system's AV receiver and access to music stored on smart phones and tablets. The app is designed to provide a portrait or landscape mode interface, depending on the device, for easy visibility and use.
Style is the hallmark of the YHT-697BL, as evidenced by its two glossy black curvilinear front channel towers and three compact, wall-mountable surround and center channel speakers. All speakers have 2-way drivers that deliver rich lows, clear dialog and expressive vocals. The 100W subwoofer features Yamaha's proprietary Advanced YSTII technology to ensure the highest levels of sound pressure and overall performance.
For easy operation while viewing movies or television, the system offers an advanced multi-language on-screen display that overlays onto HD and 3D video signals to depict system control and setup prompts. Data, such as song titles, from connected iPads, iPhones, iPods or USB drives is shown on the receiver's attractive on-screen display. Connected Apple devices also charge automatically for later use when the receiver is powered on.
The YHT-697BL offers a full complement of HD Audio format decoding, including Dolby TrueHD, DTS-HD Master Audio, Dolby Digital Plus and DTS-HD High Resolution Audio. CINEMA DSP 3D with 17 DSP programs enables users to adjust the listening experience precisely to their preferences. High performance 192/24 Burr Brown DACs for stereo and 5.1-channel output provide absolute sonic transparency. SILENT CINEMA makes it possible to hear large-scale surround sound through ordinary headphones.
Yamaha integrated its improved YPAO system calibration into the YHT-697BL to ensure more accurate room measurements by confirming that the subwoofer is fully responding before making audio adjustments. Four SCENE mode buttons automatically power on the appropriate components and make system adjustments for specific entertainment options.
ECO mode reduces the system's power consumption by 20 percent, with extremely low power consumption in standby mode and Auto Power Down that can be set for 2, 4, 8 or 12 hours.
The YHT-697 is currently available for MSRP $649.95. It joins the rest of the line's models that were introduced earlier this year, including the YHT-897BL (MSRP $849.95), YHT-797BL (MSRP $799.95), YHT-597BL (MSRP $649.95), YHT-497BL (MSRP $479.95) and YHT-397BL (MSRP $449.95).
For more information, write Yamaha Corporation of America, AV Division, P.O. Box 6660, Buena Park, CA 90620; telephone (714) 522-9105; or visit http://4wrd.it/YAMAHAYHT
# # #
About Yamaha
Yamaha Corporation of America (YCA) is one of the largest subsidiaries of Yamaha Corporation, Japan and offers a full line of award-winning musical instruments, sound reinforcement and home entertainment products to the U.S. market. Products include: Yamaha acoustic, digital and hybrid pianos, portable keyboards, guitars, acoustic and electronic drums, band and orchestral instruments, marching percussion products, synthesizers, professional digital and analog audio equipment, Steinberg recording products and Nexo commercial audio products, as well as AV receivers, amplifiers, Blu-ray/CD players, iPod docking systems, home-theater-in-a-box systems and its exclusive line of Digital Sound Projectors. YCA markets innovative, finely crafted technology and entertainment products and musical instruments targeted to the hobbyist, education, worship, professional music, installation and consumer markets.