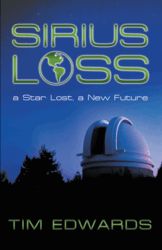 In the end, humanity is just searching for meaning in life and direction for the future.
GIDDINGS, TX (PRWEB) August 13, 2012
From the legendary creation vs. evolution argument to disagreements regarding the existence of miracles, the debate between religion and science has spanned centuries. While some famous figures such as Albert Einstein have acknowledged the validity of both sides, this perspective seems to be rarity in today's world.
Tim Edwards is a deeply devout Reverend with an innate love for science-- an uncommon combination by typical standards. Edwards believes science and faith can indeed be compatible, each searching for truth in their own ways.
In his new book, Sirius Loss (published by WestBow Press), Tim Edwards demonstrates the dualities of science and faith in a thrilling story of remarkable discoveries, new worlds and life-altering twists of fate. An experienced pastor with a passion for astronomy, physics and space exploration, Edwards' fictional tale explores how faith and science can work together in the search for higher truth.
Sirius Loss revolves around a series of interstellar discovers that threaten the existence of Earth- giving the planet less than four more years of existence. This discovery leads to another, equally remarkable breakthrough, regarding the existence of an advanced civilization that comes to Earth's rescue and changes the future of the planet forever.
The book combines elements of classic science fiction- extra-terrestrial life, supernatural encounters and doomsday scenarios- with steadfast Christian principles, including the power of faith in difficult times. By weaving religious elements into his gripping tale of action and adventure, Edwards hopes that readers will begin to recognize the commonalities between science and faith.
"In the end, humanity is just searching for meaning in life and direction for the future," says Edwards. "Everyone is on a unique journey of life to find God."
Sirius Loss: A Star Lost, A New Future
By Tim Edwards
Retail price: Soft cover $14.95, hard cover $33.95
ISBN: 978-1-4497-4636-0 (soft cover)
Available at http://www.amazon.com and http://www.barnesandnoble.com
About the author:
Reverend Tim Edwards is an advocate for the common goals of science and religion. His passion for raising awareness of the Gospel is balanced by his lifelong interest in space exploration, astronomy and physics. As a teenager, Edwards' mother was an employee at NASA's Johnson Space Center, where Edwards' love for space blossomed. Currently, Edwards works as a pastor at Giddings & Paige United Methodist Church in Giddings, Texas.
# # #
**FOR IMMEDIATE RELEASE**
EDITORS: For review copies or interview requests, contact:
Stephanie Lowe
317-602-7137 | slowe(at)bohlsengroup(dot)com
(When requesting review copies, please provide mailing address.)