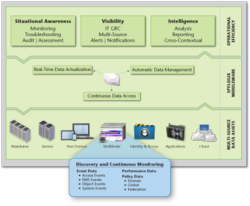 We are pleased to provide this new advanced functionality driven by our customer interactions.
Merrillville, IN (PRWEB) August 14, 2012
IdentityLogix, an innovative continuous security intelligence and real-time data actualization software company, announces enhanced functionality available through its Interactive Console. The Interactive Console feature provides new flexibility to view and analyze SiteMinder policy, performance and activity (events) security data. New columnar data grouping enables quick analysis for "Big Data" produced by SiteMinder and collected used with SpyLogix to enumerate information such as:

All user activity to a single SiteMinder online session
All activity maybe linked to a single IP address
All policy server activity originating from one or more web server agents
All historical changes to a SiteMinder policies
Easily identify delegated administrators and their authority
"Our SiteMinder customers have been asking for this advanced ability to visualize and analyze enterprise security data." said Michael Hrobat, vice president sales and marketing at IdentityLogix. "SpyLogix's interactive console feature is part of a multi-faceted security middleware platform for leveraging data for multiple mnagement/control and compliance purposes."
SpyLogix state-of-the-art enterprise information security middleware continues its evolution by addressing complex security data management challenges, reducing complexity using automation, providing improved information security through continuous monitoring of user access control points and activity, analyzing security data in real-time to enhance situational awareness for critical application or operational access management systems, effectively supporting troubleshooting to resolve problems faster, as well as, providing detailed information security monitoring/reporting for IT governance, risk and compliance (GRC) activities.
Available August 27, 2012, this SpyLogix Platform Interactive Console feature update will be made available for SiteMinder users with pre-canned sample views.
What's new?

Fine-grained grouping
Masquerade child data as parent data
Custom field labeling
Horizontal attribute viewing of enhanced data analysis
This new Interactive Console feature update to SpyLogix Platform in support of SiteMinder users will enable impactful visibility for other popular SpyLogix modules such as:
SpyLogix for Active Directory Examples:

UAC field groupings
Machine account groupings with associated attribute changes
Account disabled grouping with associated attribute changes
Who has permission to change passwords
SpyLogix for VMware vSphere Examples:

Enhanced viewing and analysis of RBAC permissions
New flexibility for reporting on administrative users and groups
New granular task viewing and analysis options
About IdentityLogix:
IdentityLogix is an innovative software company offering products that improve the efficiency and effectiveness of people, process and technologies that secure business information. It's SpyLogix™ Enterprise software is state-of-the-art security middleware, which allows for continuous monitoring and comprehensive automated real-time visibility of enterprise digital assets across IT infrastructures users, networks, identity systems, applications, mainframe systems and cloud services. Corporate and government entities utilize SpyLogix to be proactive for enterprise situational awareness, data analysis and real-time actualization to support issue resolution. They benefit from increased IT staff productivity, stream-lined audit support, enhanced overall security and improved governance, risk and compliance posture.
For more information please visit http://www.identitylogix.com.
IdentityLogix and SpyLogix are either registered trademarks or trademarks of IdentityLogix in the United States and/or other countries. All other trademarks or trade names are property of the respective holder.
# # #