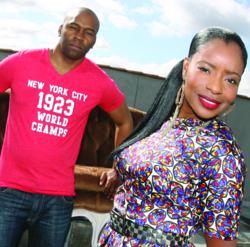 Los Angeles, CA (PRWEB) August 14, 2012
Husband-and-wife pair, Marc and Marie launched online vintage boutique on Monday. Born and raised in Los Angeles, California, they are putting the fun back in shopping with the MarcMarie boutique (marcmarie.com), an online fashion site that offers vintage and contemporary styles and accessories for the ladies, along with advice on putting it all together, plus cool tees for the guys.
After working a number of years at an upscale fashion retailer in sales and merchandising, Thecia Marie and Christopher Marc Plummer decided to pursue their passion for fashion by launching their website, titled for their middle names. With a great idea and a shoestring budget, they were determined to make their goal a reality. "We wanted to offer customers a more satisfying shopping experience," they explain. As if great styles and prices weren't enough, the MarcMarie boutique has a special value-added that customers will love: fashion expertise from Marie.
Marie shows customers how to combine tops, skirts, pants and jackets with a variety of accessories into complete outfits. Think of how far one basic dress can go, and get multiple looks from one garment. Want to look fabulous? Here's where to put it all together. Marie shares her fashion expertise on the website on their style page "M Style Weekly." Website visitors can subscribe online for free at MarcMarie.com.
They handpick quality vintage clothing that give them inspiration, aiming to offer unique and rare items. Vintage ranging from the forties to the early eighties is their specialty. Accessories include belts, bags, necklaces, and scarves. Men's attire include vintage inspired designed tees with great slogans. They look great anywhere, any time. No more shopping hassles.