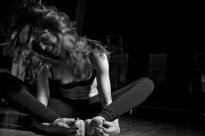 I.AM.YOU. is designed to help take the body – the inside and outside – to the place it wants it to be: On top of the world.
Charlotte, NC (PRWEB) August 22, 2012
YogaVibes, a leading distributor of online yoga classes, has recently launched four new online yoga classes with Lauren Imparato, I.AM.YOU. Yoga, owner of I.AM.YOU., a lifestyle brand and yoga studio in Manhattan's SOHO district.
I.AM.YOU. is designed to help take the body – the inside and outside – to the place it wants it to be: On top of the world.
Now, anyone and everyone can be on top of the world with I.AM.YOU. Enjoy Lauren's athletically inspired and restorative flows in these featured online Vinyasa yoga classes.
I.AM.YOU. Hip and Leg Opener & Restorative (30 minutes)
Link breath with creative, energetic movements in this online Restorative Vinyasa Flow. Focus on hip and leg openers and restorative postures. Lauren provides alternative poses throughout, making this an appropriate online prenatal class too!
I.AM.YOU. Beginner Daily Flow (16 minutes)
This is a great short practice to get the day started. This online yoga class is particularly geared for beginners and is also amazing for athletes. Lauren draws on traditional yoga principles and postures, but gives her own creative, funky spin. Get ready for some core strengthening exercises. Have two blocks and two blankets handy.
I.AM.YOU. Abs and Back (32 minutes)
Bring together breath and creative, athletic movements. Strengthen the abs and back. This online yoga class is an athletic Vinyasa Flow that is creative and funky while being strongly rooted in tradition. This class is great for athletes and for those desiring to enhance core strength. Lauren provides modifications throughout, making this practice a suitable prenatal class too!
I.AM.YOU. 360° Athletic Yoga - Hips, Abs, Butt and Mind (60 minutes)
This class is killer! Undergo a 360-degree sensorial, personal, and challenging yoga experience that will rock the mind and body. Connect breath with creative, athletic movements that are designed for all levels. Focus on core strength. Experience a super invigorating cardio workout. Explore twists. Break a sweat. Enjoy Lauren's original spin to the practice, though deeply rooted in tradition.
Stay tuned for more online yoga classes with I.AM.YOU. and Lauren Imparato coming soon to YogaVibes.com.
Be strong, inside and out. Grow and evolve. Be on top of the world.
About Lauren Imparato
Lauren Imparato never anticipated that yoga would become a part of her daily life. A California girl raised on athletic fields, basketball courts, and in swimming pools, she traveled east for the classrooms of Princeton, and after graduating, moved to New York for life as a young Wall Street professional. She turned to yoga, hesitantly at first, as a way to diversify her Manhattan treadmill workouts. She soon realized that with regular practice, on and off the mat, yoga can change a person from the inside, out, as well as from the outside, in.
In Spring 2009, Lauren resigned her job as a Vice President at Morgan Stanley to launch I.AM.YOU.
For more on Lauren's studio please refer to her website, http://www.iamyoustudio.com. Find music suggestions to go along with her classes, as well as breakdowns of common poses.
About YogaVibes
Looking for the best online yoga classes? Look no further! YogaVibes.com is an online realm for high-quality, authentic yoga classes and instructional videos captured in a real studio with real students. YogaVibes offers a diverse selection of classes from the best yoga teachers in the world, making learning and living yoga easy in everyday life. YogaVibes' mission: To create a supportive, challenging, and welcoming online community of passionate and inspiring yogis.