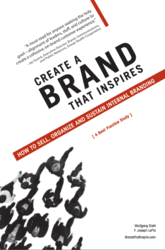 What people experience, believe and say about your brand is accessible to almost anyone, at any time
Seattle, WA (PRWEB) August 13, 2012
If a company's strength lies in uniting its employees to empower a brand from the inside out, a new book is offering the secrets to success.
In their best practice study, Create a Brand That Inspires: How to Sell, Organize and Sustain Internal Branding (published by AuthorHouse), co-authors Wolfgang Giehl and F. Joseph LePla lay out a framework for effective brand management that balances inside-out and outside-in brand strategies. Using the organizing principle of internal branding, the book offers a set of practical and detailed new rules for how business managers and CEOs can use a combination of intrinsic company value, culture and social media to build long-term competitiveness.
"What people experience, believe and say about your brand is accessible to almost anyone, at any time," says Giehl. "That's why today's brand leaders can't leave their brand experience to chance. While they learn and develop their social media and community branding, they also need to dedicate resources into employee brand engagement and alignment. Today's branding is really about motivating and enabling staff to perform in ways that contribute to the brand's success."
This best practice study includes 16 international case studies complete with photos and graphics, interviews and examples from a wide range of industries. These benefit from Giehl and LePla, who have integrated a European and American view of branding resulting in a unique perspective on how to successfully develop and manage internal branding in a global setting.
"Convinced employees build convincing brands," says LePla. "Whether online or face-to-face, internal branding is about creating authentic and consistent experiences that allow your brand to thrive."
For more information, visit http://www.brandsthatinspire.com.
Create a Brand That Inspires: How to Sell, Organize and Sustain Internal Branding
By Wolfgang Giehl and F. Joseph LePla
ISBN: 978-14670-3952-9
Retail price: $22.00
About the authors
Joe LePla has over 34 years' experience in integrated branding and marketing. In 1994 he co-founded Parker LePla, a brand strategy consultancy in Seattle dedicated to ground breaking and results-oriented approaches to brand development. Through the years, Joe has worked with national and international clients in a variety of industries including healthcare, technology, public sector, non-profit, professional services, and small business. He is the co-author of two previous branding books: Integrated Branding and Brand Driven.
Wolfgang Giehl is Betriebswirt (MBA) and Senior Vice President of Corporate Brand Marketing for Deutsche Post DHL, the world's leading mail and logistics services group. He is responsible for the group's global brand architecture and brand management of DHL worldwide. Prior to joining Deutsche Post DHL in 1995, Wolfgang was in charge of the national and international budgets of several advertising agencies. He is co-author of Focus Internal Branding and author of various articles and publications on brand management.
# # #
**FOR IMMEDIATE RELEASE**
EDITORS: For review copies or interview requests, contact:
Jessica Kiefer
Tel: 317.602.7137 | Fax: 317.536.3775 | Email: jkiefer(at)bohlsengroup(dot)com