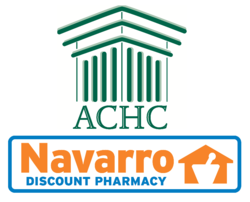 Raleigh, NC (PRWEB) August 13, 2012
The Accreditation Commission for Health Care, Inc. is pleased to announce that Navarro Discount Pharmacies, LLC. has been approved for renewal accreditation meeting ACHC standards and criteria. Headquartered in Miami, FL, Navarro Discount Pharmacies now has over 30 store locations and is one of the largest drugstore chains operating in the United States.
Matt Hughes, Business Development Manager, stated "The commitment that Navarro Discount Pharmacy has illustrated in meeting ACHC standards is indicative of the world class organization that it is. Navarro continues to employ the highest level of compliance, care, and customer service and we are grateful to have them as our customer."
Albert Garcia, Executive Vice President of Navarro Discount Pharmacy and President of Navarro Health Services, highlighted the achievement in saying "Navarro Discount Pharmacy, the largest Hispanic Drug Store chain in the Country, has operated in South Florida for over 50 years. The reaccreditation process was efficient and easy to follow with the guidance of Navarro's staff. With this accreditation Navarro can continue to serve its patients with the highest degree of customer service. We are proud to be re-accredited by ACHC."
ACHC is a not-for-profit organization that has stood as a symbol of quality and excellence since 1986. They are ISO 9001:2008 certified and have CMS Deeming Authority for Home Health, Hospice and DMEPOS. ACHC is the provider's choice for accreditation because of personal account managers, relevant and realistic standards, competitive pricing and a friendly, consultative approach to accreditation. Accreditation by ACHC reflects an organization's dedication and commitment to meeting standards that facilitate a higher level of performance and patient care.
For more information on ACHC corporate accreditation programs, or to download
free accreditation standards, please visit http://www.ACHC.org or contact them at customerservice(at)achc(dot)org or 855-937-2242.